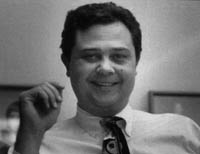 Conservative Revolution: The Future of American Politics
JEFFREY EISENACH '79
TUESDAY, FEBRUARY 20, 1996
As the president of the Progress and Freedom Foundation, CMC alumnus Jeffrey Eisenach leads the effort to build a cohesive conservative vision for the future of the United States. As Eisenach explained in the spring 1995 issue of Profile, he intends his think tank to be one of the "focal points for a conversation by which that vision is developed."

Eisenach warns that a conservative vision for the future has yet to take shape. In the same Profile interview, he states: "Conservatives have failed to present a compelling alternative for how to organize society." What is clear to him, however, is that the present system of government will have to change.

If Eisenach's mission is to define the future in terms of the recent conservative shift in American politics, he is certainly well connected and appropriately positioned. He founded his organization with George Keyworth, former director of the physics division at Los Alamos National Laboratory, in order to assemble visionaries who would speak about issues that affect the future.

He counts House Speaker Newt Gingrich among his closest associates, and his Progress and Freedom Foundation is a veritable Who's Who of published visionaries and conservative thinkers. Board members of the foundation include Arianna Huffington, author of The Fourth Instinct (1994) and wife of Michael Huffington, who unsuccessfully ran for the U.S. Senate from California; and James C. Miller, a former director of the Office of Management and Budget. Frank Luntz, president of the Luntz Research Companies, Inc., is an adjunct fellow.

A former executive director of GOPAC-the political action committee formed by Gingrich-Eisenach has also worked for the Federal Trade Commission. After graduating from CMC, he earned a doctorate at the University of Virginia.

The Athenaeum is pleased to present Jeffrey Eisenach as part of the Salvatori Center's series Politics and Ideas. Students are encouraged to meet and converse with a CMC alumnus who is now part of the dramatic changes that are taking place in the nation's capital.