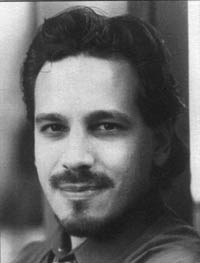 The Tense Embrace of the Other: U.S.-Mexico Relations
RUBÉN MARTíNEZ
MONDAY, MARCH 25, 1996
As part of its continuing series, "Politics and Popular Culture in the Latino Community," the Athenaeum is pleased to host the return of Rubén Martínez, Emmy Award-winning journalist, poet, and performer. His lecture will tackle the multifaceted relations between the United States and Mexico, two neighbors with distinct conceptions of life and history.

Perhaps best known as a co-host of "Life and Times," the KCET series on politics and culture, Martínez has written The Other Side: Notes from the New L.A., Mexico City, and Beyond (1993). This collection of essays and poetry has won widespread critical acclaim. Currently, he is at work on his second book, a journalistic novel about the changing cultural and political landscape of Mexico.

A former news editor of L.A. Weekly, Martínez is the Los Angeles bureau chief for Pacific News Service and a guest commentator on National Public Radio's All Things Considered. His articles have appeared in The New York Times, Los Angeles Times, Village Voice, La Opinión, The Nation, and New Perspectives Quarterly. He also teaches journalism at CMC and Chicano studies at the University of California, Santa Barbara.

Beyond this professional life in journalism, Martínez is a successful poet and artist who has gained international recognition. Recently featured as a spoken-word artist on MTV-Latino, Martínez been an artist-in-residence with Los Angeles public schools for almost a decade. He has also appeared in Danger Zone/Terreno Peligroso (1995) -a month-long series of performances that earned raves in both Los Angeles and Mexico City. Martínez has performed at the Los Angeles Metropolitan County Museum of Art, The House of Blues, Centro Cultural de la Raza, and The National Civil Rights Museum among other venues.

In the field of journalism, Martínez has won an Emmy for his work on "Life and Times," and his coverage of the Rodney King investigation and its aftermath earned him a Greater Los Angeles Press Club award of excellence. For his literary endeavors, he has been accorded a fellowship in literature from the California Arts Council, a Santa Monica Arts Council prize in literature, and a Chicano Literary Contest Prize from the University of California, Irvine.