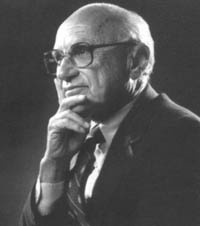 Free Markets and Free Men
MILTON FRIEDMAN
THURSDAY, APRIL 18, 1996
Milton Friedman, 1976 Nobel Prize winner in economics, has been a senior research fellow at the Hoover Institution since 1977. He is also Paul Snowden Russell Distinguished Service Professor emeritus of economics at the University of Chicago, where he taught from 1946 to 1976.

Friedman is widely regarded as the leader of the Chicago School of monetary economics, which stresses the importance of the quantity of money as an instrument of government policy and as a determinant of business cycles and inflation.

He has published many books and articles, most notably A Theory of the Consumption Function (1957), The Optimum Quantity of Money and Other Essays (1969), and (with A. J. Schwartz) A Monetary History of the United States (1963), Monetary Statistics of the United States (1970), and Monetary Trends in the United States and the United Kingdom (1982).

In addition to his scientific work, Friedman has also written extensively on public policy, always with primary emphases on the preservation and extension of individual freedom. His most important books in this field are: Capitalism and Freedom (1962) (with Rose D. Friedman); Bright Promises, Dismal Performance (1983); Free to Choose (1980)(with Rose Friedman), which complements a ten-part television series of the same name; and Tyranny of the Status Quo (1984), which complements a three-part television series of the same name.

Milton Friedman is the Henry Salvatori Center's leadoff speaker for its 25th anniversary conference on modern freedom, which will run through Saturday, April 20th. Students attending the Friedman dinner will have the opportunity to meet and dine with such distinguished conference participants as Michael Novak, director of social and political studies at the American Enterprise Institute in Washington, D.C.; Harvey C. Mansfield Jr., professor of government at Harvard University; and Ernest Fortin, professor of theology at Boston College. The conference is open to the public and will continue with a panel discussion in Davidson Lecture Hall on Friday afternoon at 1:30 p.m.

Dinner reservations are restricted to members of the CMC community. The 6:45 p.m. lecture is open to all, no reservations required.