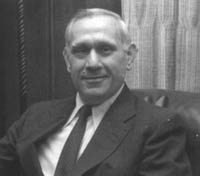 The Second World War and Lasting Peace
DONALD KAGAN
WEDNESDAY, APRIL 24, 1996
Why did the peace that concluded the First World War fail, eventually leading to renewed general war, while the end of the Second World War laid the foundations for a more lasting peace? Can we learn any enduring lessons from a study of the ends of these wars? Please join us in the Athenaeum as Professor Donald Kagan, one of the world's leading military and political historians, gives thoughtful answers to these and other questions concerning the nature of war and peace.

Donald Kagan is the Hillhouse Professor of History and Classics at Yale University and is the former dean of Yale College. He holds an M.A. in the classics from Brown University and a Ph.D. in history from Ohio State University.

A leading classical scholar, Kagan is most recently author of an acclaimed study, On The Origins of War and the Preservation of Peace (1994). Among his numerous articles and books on classical history are The Outbreak of the Peloponnesian War (1969), The Peace of Nicias and the Sicilian Expedition (1981), and The Fall of the Athenian Empire (1987).

Kagan was formerly Bass Professor of History and Classics and Western Civilization at Yale, which gave him an eyewitness view of the controversy surrounding a $20-million donation to the university. The Yale administration sparked alumni outrage when it returned the donation rather than follow the wishes of the donor and implement an agreed-upon series of programs in western civilization.

The Kagan lecture is cosponsored by the Henry Salvatori Center and the Gould Center for Humanistic Studies.