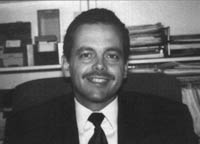 Crisis, Reform, and Crisis: Déjà Vu and the Absence of Memory in Mexico's Political Economy
MANUEL PASTOR, JR.
TUESDAY, APRIL 2, 1996
After a devastating debt crisis in 1982, Mexico's government initiated a series of reforms that were later hailed as sound macroeconomic policies. In late 1994, however, these very reforms seemed to collapse as the Mexican economy imploded and the peso's value plunged. To explain this dramatic reversal, Dr. Manuel Pastor will share his analysis of Mexico's present crisis and its connection to the last decade of reforms.

An expert in Latin American political economy, Pastor is a professor of economics at Occidental College, where he also serves as the director of the International & Public Affairs Center. His current research projects deal with the political economy of free trade in Mexico, economic reform in Cuba, and the relationship between private investment and democracy in the developing world.

Apart from teaching courses on economic development and macroeconomics, Pastor has written a number of works on the issue of Latin American development. These include The International Monetary Fund and Latin America: Economic Stabilization and Class Conflict (1987) and Inflation, Stabilization, and Debt: Macroeconomic Experiments in Peru and Bolivia (1992). His articles have also been featured in scholarly journals such as International Organization, World Development, and Latin American Research Review.

In recent years, Pastor has become recognized for his research in, and service to, low-income communities of color. In 1989 he cofounded the New Majority Task Force, a group of minority urban planners and community leaders. From 1990 to 1991 he directed a California Council for the Humanities project on the "California Dilemma," which addressed the issues of environmental integrity, economic development, and social justice. The author of Latinos and the Los Angeles Uprising: The Economic Context (1993), Pastor is now studying the relationship between regional restructuring and community development in low-income neighborhoods.

Pastor holds an M.A. and a Ph.D. in economics from the University of Massachusetts, Amherst. He has been a visiting associate professor at the Graduate School of International Relations and Pacific Studies at the University of California, San Diego, and at the Graduate School of Architecture and Urban Planning at the University of California, Los Angeles.