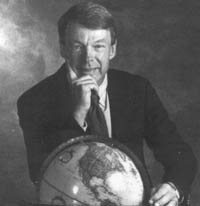 Rejecting Complacency and Despair: Reflections on the Holocaust
P. EDWARD HALEY
MONDAY, APRIL 15, 1996
In remembrance of the Holocaust the Marian Miner Cook Athenaeum is honored to present P. Edward Haley as this year's guest speaker. A recognized expert in the field of international relations, Professor Haley argues that the Holocaust offers valuable lessons that go beyond the diplomatic and strategic. The tragedy of the Holocaust reminds capitalist societies of the dangers inherent in complacency, for the possibility of another holocaust persists. And yet, the example of those rescuers involved in the Holocaust may also give hope to society as a whole, renewing the meaning of altruism.

A senior research associate of the Keck Center for International and Strategic Studies, Haley is a professor of international relations at CMC and The Claremont Graduate School. His scholarly interests include nuclear weapons and arms control, the Arab-Israeli conflict, and security developments in Asia and the Pacific. He is an International Fellow of the Council on Foreign Relations and a member of the International Institute for Strategic Studies in London.

Haley has authored and edited a number of internationally recognized books and articles. These works include Overtaken by Events: George Bush and the World, 1989-1993; Strategic Defense Initiative: Folly or Future? (1986); Nuclear Strategy, Arms Control, and the Future (1988); and Qaddafi and the United States Since 1969 (1984).

A former staff member in the U.S. Senate and House of Representatives, Haley is frequently quoted by the media on international controversies and issues of the day. His opinion articles have been featured in the Los Angeles Times, The International Herald Tribune, and The Chicago Tribune.

Professor Haley received his B.A. and M.A. from Stanford University and a Ph.D. from Johns Hopkins University, School of Advanced International Studies.