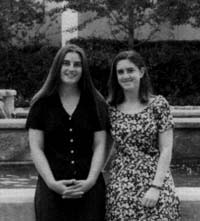 A Message From the Athenaeum Fellows
RUTH PAYNE '97
WHITNEY TIRRELL '97
Welcome back to Claremont. We hope that each of you has had an enjoyable and relaxing summer. The Athenaeum is ready to celebrate CMC's 50th year with provocative programs and exciting speakers. As always, we encourage all students to take time out of busy schedules to enjoy this unique institution and the opportunities it offers. Lectures take place Monday through Thursday and are preceded by dinner. Students are asked to sign up for dinner at least three days in advance as space is limited. Reservations are not required to attend just the lectures.

Please dress appropriately for dinner at the Athenaeum-no shorts, jeans, or t-shirts.

Other programs for CMC students and faculty offered by the Athenaeum include a daily afternoon tea where you can meet informally for treats and conversation. Also, Open Forum Lunch, featuring Athenaeum cuisine and lively discussions, is held every Wednesday at noon on a first-come basis for CMC students, faculty, and staff only. Dress for both events is casual.

The entire Athenaeum staff invites you to participate in what we hope will be stimulating programs for all during the coming months. As Athenaeum fellows, we welcome your commentary on all Athenaeum events and are eager to hear your thoughts about speakers and programs. Please do not hesitate to approach us, in or out of the Athenaeum. Good luck with the start of a new semester and we hope to see you soon!