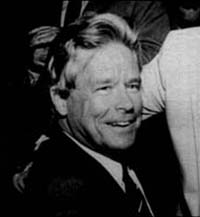 How Much Is That Doggie in the Window? The 50s: An Important Yet Maudlin Decade
HUGH GALLAGHER '56
TUESDAY, OCTOBER 8, 1996
Hugh Gallagher '56 returns to Claremont not only as an alumnus but also as a scholar, writer, and civil rights activist. He drafted and conceived the very first civil rights legislation for disabled people, the National Architectural Barriers Act of 1968. The breadth of Gallagher's knowledge and successful pursuits are evident in the awards and honors he has won.

Rebounding from his bout with polio, Gallagher wrote about another polio victim, Franklin Delano Roosevelt. FDR's Splendid Deception: The Moving Story of Roosevelt's Massive Disability and the Intense Efforts to Conceal It from the Public (1985) was awarded a medal by the United Nations Writers Society for "distinguished biography." Gallagher's most recent book, By Trust Betrayed: Patients, Physicians, and the License to Kill in the Third Reich (1989), is a selection of the Conservative Book Club as well as praised by the American Library Association.

In addition to authoring four successful books, Gallagher also has vast experience in Washington, D.C. After studying at Oxford University, Gallagher returned to the U.S. to work as a legislative assistant for two senators before joining the Johnson presidential campaign of 1968 and working in the Johnson White House. In the early '70s he worked as a lobbyist for British Petroleum and then went on to start his own political consulting firm for European and Australian CEOs.

Currently, Gallagher consults at the Library of Congress and the United States Holocaust Memorial Museum in addition to working as a free-lance writer and scholar.

This will be a wonderful opportunity to meet a distinguished CMC alumnus in the Athenaeum series entitled Alumni Through the Decades.