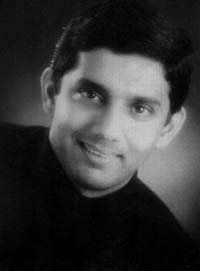 CCRI: The End of Affirmative Action?
DINESH D'SOUZA
VS.
MOLLY MUNGER
WEDNESDAY, OCTOBER 16, 1996
Proposition 209, better known as the California Civil Rights Initiative (CCRI), has set off a firestorm of debate within our own state and on the national level. For the first time, the public will have the chance to decide the fate of government-imposed affirmative action programs.

With the election only weeks away, the Henry Salvatori Center and the Marian Miner Cook Athenaeum are pleased to present a debate on this pressing issue. Dinesh D'Souza, John M. Olin Research Fellow at the American Enterprise Institute and visiting fellow at the Claremont Institute, and Molly Munger, Western Regional Counsel for the National Association for the Advancement of Colored People's (NAACP) Legal Defense and Educational Fund, Inc., will consider various aspects of this contentious issue.

Well known for his fight against political correctness on the nation's college campuses, waged in his best-seller Illiberal Education: The Politics of Race and Sex on Campus (1991), Mr. D'Souza has now joined the heated debate over affirmative action. In his latest book The End of Racism: Principles of a Multiracial Society (1996), he skewers the notion that affirmative action programs have succeeded, or can succeed, in fighting racism; rather, they do little more than "camouflage" underachievement in academia and in the workforce. Mr. D'Souza contends that the proper solution is a race-neutral society in which all races confront the cultural causes of this pathology.

A graduate of Radcliffe College and Harvard Law School, Molly Munger has a highly distinguished record as an attorney in the Los Angeles community. Formerly a federal prosecutor in the U.S. Attorney's Office, she has done extensive work in private practice, including five years with her own firm, Munger and Myers. Ms. Munger's considerable list of pro bono projects includes working as a co-counsel with the NAACP in Rodney King's civil litigation, a California Environmental Quality Act challenge to a Palos Verdes school closure plan, and a Voting Rights Act challenge to the redistricting of the Los Angeles City Council. One of her many ongoing major projects is research, advocacy, and campaign work against the CCRI.

Please join us in the Athenaeum for an evening of lively and eye-opening discussion on this burning issue. There will be a reception at 5:30 p.m. and dinner at 6:00, with the debate beginning promptly at 6:45. Dinner reservations are for CMC persons only. The debate at 6:45 p.m. is open to all.