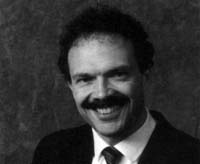 Election Night Celebration
JOHN J. PITNEY, JR.
TUESDAY, NOVEMBER 5, 1996
The excitement of an election culminates on election night. Professor John J. Pitney joins the Athenaeum for discussion and commentary on the importance of the results of national and state elections on November 5. He will also comment on "live" television coverage of the election results projected on the large screen in the Security Pacific Dining Room. Although not a fortune teller, Pitney has keen insight into the political process and the 1996 political climate.

After receiving his M.A. from Yale University in 1978, Pitney began his political career in his home state of New York as a legislative assistant for State Senator John R. Dunne. He later worked for the U.S. House Republican research committee while completing his Ph.D., also from Yale. During a leave of absence from CMC, Pitney was acting director of the Republican National Committee's research department.

A professor of government at CMC since 1986, Pitney has published numerous scholarly articles and coauthored the book, Congress' Permanent Minority?: Republicans in the U.S. House (1994). In 1995 he received the Glenn R. Huntoon, Jr. Teaching Award and in 1988, the Richard Shure Faculty Award.

You won't want to miss this lively evening of political history "in the making." A special menu is being planned, featuring Kansas T-bone steaks for the Republicans and Arkansas baby-back ribs for the Democrats-plus vegetarian entrees, of course. Owing to the popularity of this event, only CMC students, faculty, and staff are eligible to attend.