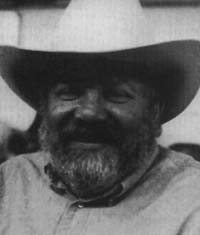 Cowboy Poetry and Song
BUCK RAMSEY
ANDY WILKINSON
TUESDAY, MARCH 25, 1997
For most people, the cowboy life is something to be read about in history texts and old western novels. The romanticized range life is an archetypical image of American culture on the new frontier, where ranchers lassoed errant calves and spent nights around the campfire. For Buck Ramsey, however, cowboys are not just a part of his country's past, but his personal past as well.

Ramsey spent much of his young life as a cowboy before turning his experiences into music and poetry. He is now among the most famous of all cowboy poets, and he has been featured in most major gatherings for the genre. He has also received the National Heritage Award from the National Endowment for the Arts, the highest award given for folk art.

Buck Ramsey has recorded two albums, Rollin' Uphill from Texas (1992) and My Home was in Texas (1994), and each has received the Western Heritage Wrangler Award from the National Cowboy Hall of Fame. He will be performing works from his album at the Athenaeum as part of the series entitled Moving West.