Athenaeum Location
Print Newsletter
April 14, 1997
Vol. 12, No. 10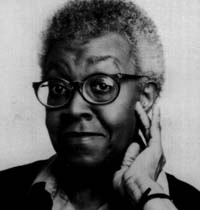 Poet Reads From Her Work
GWENDOLYN BROOKS
MONDAY, APRIL 14, 1997
Gwendolyn Brooks is one of the most influential and important poetic voices of modern America. Her early poetry, dramatic character studies from the fictional ghetto "Bronzeville" focused on the lives of local people who represent all that is "luminously indiscreet." She achieved early success for exciting experiments with rhythm, her passionate attention to details, and powerful refrains.

In 1967 her work began to change as she began to write more directly about her experiences as a black woman and a poet. In her hometown of Chicago, where she has lived since 1917, Brooks organized workshops for young black writers and helped the white community to become aware of the power and depth of a new generations of black poets. Her heroic voice has borne witness to and been a voice for change in the tumultuous decades of post-World War II America.

Gwendolyn Brooks has received many honors including the Pulitzer Prize for her book Annie Allen (1989) and was appointed Poet Laureate of Illinois (1968-present), succeeding Carl Sandburg. The Gwendolyn Brooks Junior High School in Harvey, Illinois was named in her honor in 1981, and she has been Distinguished University Professor at Chicago State University. Please join us for this reading by one of America's legendary bards.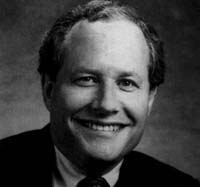 A Conservative Future?
WILLIAM KRISTOL
TUESDAY, APRIL 15, 1997
The Henry Salvatori Center is pleased to welcome William Kristol to the Athenaeum. Kristol is the editor and publisher of The Weekly Standard, a conservative journal of politics and ideas, and is a leading political analyst. A regular guest on Good Morning America, This Week, and The News Hour with Jim Lehrer, Kristol has established a reputation with his writings on political philosophy and public policy which have appeared in both popular and academic journals.

Kristol was chairman of the Project for the Republican Future prior to editing The Standard. There he played a key role in the fight against Bill Clinton's health care plan, and in the strategy that produced the Republican congressional victory of November 1994. Kristol also served as chief of staff to Vice President Dan Quayle during the Bush administration, and to secretary of education William Bennett under President Ronald Reagan.

Kristol attended Harvard University, where he earned a bachelors degree in government and a doctorate in political science. He has taught at the University of Pennsylvania and at Harvard's Kennedy School of Government. His talk will focus on American politics in the wake of the 1994 and 1996 elections. Kristol will assess the likelihood of a conservative electoral realignment and examine the present dynamics of the American political arena. Please join us for what promises to be an engaging and insightful evening.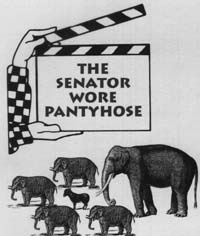 Dinner Theater
The Senator Wore Pantyhose by Billy Van Zandt and Jane Milmore
April 17-19, 1997 Dinner and Play 6:00 p.m.
So, what does the American public look for when voting for a president? Honesty? Commitment to issues? Integrity? Paige Gordon (Alicia Keyes), campaign advisor to presidential hopeful Senator Gabby Sandalson (Chris "Cha Chi" Monjoy) doesn't think so, and she is out to make sure her honest candidate wins-using the time honored methods of scandal, mud-slinging and show-biz. Besides dragging him to the Sluckup Inn in rural Pennsylvania and scheduling him to kiss the local girl's (Nikki Smythe) baby, Paige mousses Gabby's hair, darkens his eyebrows, and sets up a false scandal to get publicity. She also secures him the support of the televangelist Rev. Johnny Burgemeister (Austin Sheppard), and his loyal wife, Honey Pie (Kiki Gaffney). However, Burgemeister refuses to support the senator until he meets Mrs. Sandalson (Lisa Wile)-but no one seems to know where she is, especially not the escaped convicts Antonia Pinella (Biff Jones) and Paddy McMutton (Louis Levine) who keep telling everyone that he is the future First Lady!

As night falls on the Sluckup Inn, the confusion mounts, and everyone, even the Inn's fussy, antique-loving owner (Chris Rogers) gets caught with their pants down when Dawn "Scoop" Bother (Jen Hagen) arrives to cover a scandal that quickly becomes far larger than the false one Paige manufactured. So, don't wait for the tabloids-come see for yourself what happens when Under the Lights performs Van Zandt and Milmore's farcical spoof of political campaigning, The Senator Wore Pantyhose (1989). It may forever change your view of running for president-and convince you that you never want to!

Seating will be festival style and is limited. Sign up as soon as possible, circling your first, second, and third choice of date. You will be contacted if your first choice reservation date is unavailable.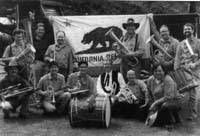 California Gold Rush Band: Gold Rush Period Music
LES BENEDICT
KEVIN MAYSE
RICH CHASIN
STEVE CHARPIE
TOM BRIDGES
TIMM BOATMAN
ROBB STEWART
ROD MATHEWS
BUDDY LANG
SCOTT HELBERG
BILL REICHENBACH
JOHN BECK
MONDAY, APRIL 21, 1997
In January 1848 gold was discovered at Sutter's Mill. This event marks the beginning of a mass migration to California as dozens of miners came to pan the river for the precious commodity. With this rush of people came a call for society and entertainment, and dozens of musicians and bands stepped in to answer that call.

The California Gold Rush Band is an authentic portrayal of the numerous brass bands that existed during this period in American history. Using genuine 19th century brass instruments and richly designed costumes, the members of this group transport audiences back to a time when California was still young and the promise of gold was as real as it has ever been.

Members of the California Gold Rush Band have worked hard to recover music from the Gold Rush period, although much of it has been destroyed by fires and earthquakes. Extensive research has allowed them to put together several fantastic programs to recreate both the music and the mood of the time.

The California Gold Rush Band is comprised of professional musicians from the Los Angeles area who are active in studio, symphonic, commercial, and chamber music. They have performed at brass band festivals in Kentucky, Michigan, South Dakota, and Montana, as well as in a number of museums and historical celebrations. They recently released a recording, The Brass Mounted Army: Music of the Old Horse Cavalry, which features music associated with the early U.S. Cavalry.

You won't want to miss this final program in the Athenaeum series Moving West.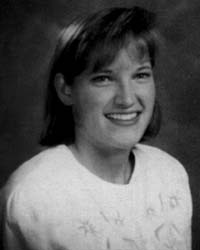 From CMC to the ICU: Reflections on Becoming a Doctor
LORRAINE WARE '88
TUESDAY, APRIL 22, 1997
The curriculum vitae for Lorraine Bell Ware, M.D., reveals a young woman who apparently knew what she wanted to do with her life early during her college career, and then proceeded to successfully do all the right things in preparation for her chosen profession.

Ware graduated summa cum laude from CMC with honors in a dual major in chemistry and biology. Her senior research thesis was entitled "Structural determinations of a lipopolysaccharide in Myxococcus xanthus." At CMC she received numerous honors including the Berger outstanding senior student award, initiation into Phi Beta Kappa, Claremont McKenna College distinguished scholar for eight semesters, and the McKenna achievement award from 1988 to 1992.

Lest you think she spent all her time in science labs, Ware admits to going to a lot of parties. She was also a member of the swim team, head life guard, president of Marks dorm the year it was named "dorm of the year," and played violin in the orchestra.

Ware graduated from Johns Hopkins University School of Medicine in 1992, and she also completed her internship and residency in internal medicine there. She is currently on a fellowship in pulmonary and critical-care medicine at the University of California at San Francisco.

The Athenaeum is proud to welcome Lorraine Ware '88 back to CMC as part of the series recognizing Distinguished Alumni and Women in Medicine.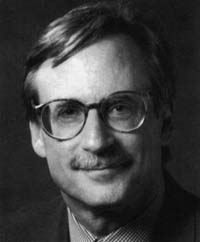 McKenna Lecture on International Trade and Economics
Globalization and Its Discontent
MICHAEL BOSKIN
WEDNESDAY, APRIL 23, 1997 4:00 p.m.
Chairman of the Consumer Price Index commission, former chairman of the President's Council of Economic Advisors, and T. M. Friedman Professor of Economics at Stanford University, Michael Boskin is internationally recognized for his research on world economic growth. He is the author of more than 100 books and articles. Especially powerful are his projections of coming changes on the information superhighway and the way in which rapid technological developments will affect every aspect of life in the next millennium.

Boskin received his B.A. with highest honors and the chancellor's award as outstanding undergraduate in 1967 from the University of California at Berkeley, where he also received his M.A. in 1968 and Ph.D. in 1971. In addition to Stanford and the University of California, he has taught at Harvard and Yale.

Boskin has received numerous professional awards and citations, including Stanford's distinguished teaching award and the National Association of Business Economists' Abramson Award. He is known in academe, government, and business for his candor, insight, and integrity.

You are welcome to attend this afternoon lecture by esteemed economist, Michael Boskin, who will speak at 4:00 p.m. in the Security Pacific Room in the Athenaeum. This lecture is the third annual McKenna Lecture on International Trade and Economics, funded by a grant from the Phillip McKenna Foundation.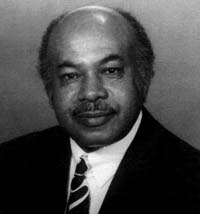 Proposition 209 and the Future of Civil Rights in America
WARD CONNERLY
THURSDAY, APRIL 24, 1997
As chairman of the Yes on Proposition 209 campaign and a member of the University of California Board of Regents, Ward Connerly has been at the forefront of efforts to repeal race-based quotas and preference programs in California. On July 20, 1995, following his lead, the Regents of the University of California voted to end the use of racial preferences for admissions to the University of California system, and on November 5, 1996, Californians voted to approve Proposition 209, eliminating preference programs for government agencies and contracts.

Having been called everything from Uncle Tom to an American hero in the past year, Ward Connerly is certainly no stranger to controversy. Yet all the commotion has been worthwhile, according to Connerly, because his campaign against racial and gender preferences is based upon an appreciation of the founding principles of America. Connerly believes that efforts to mandate diversity or multiculturalism, particularly in government programs, is contradictory to the principle enunciated in the Declaration of Independence that all men are created equal. He feels that his commitment to the American ideal has necessitated his leadership on the California Civil Rights Initiative, and has led to his formation of the American Civil Rights Institute to push for versions of the CCRI on both the federal and state level.

As president and chief executive officer of Connerly and Associates, Inc., Connerly oversees a Sacramento-based land-use planning and association-management consulting firm. Prior to establishing his firm, he worked for the state of California at the Department of Housing and Community Development and the Assembly Housing Committee.

Connerly is a lifetime member of the California Building Industry Hall of Fame, and he was the honorary chairman of the American Lung Association in 1993. He serves on the board of the California Chamber of Commerce and is the chairman of the California Governors Foundation. He is also the recipient of the distinguished service award from his alma mater, California State University, Sacramento.

The Henry Salvatori Center and the Marian Miner Cook Athenaeum are pleased to welcome Ward Connerly to Claremont McKenna College. Connerly will be discussing the principles underlying his sponsorship of the California Civil Rights Initiative, and his current efforts to duplicate his success across the nation. In the spirit of the Salvatori Center, his talk promises to be a blend of theory and practice, focused upon a central issue of our day.

Reservations are required for both the dinner and the talk by Ward Connerly. This event is open to members of the CMC community only.