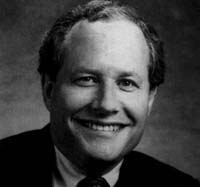 A Conservative Future?
WILLIAM KRISTOL
TUESDAY, APRIL 15, 1997
The Henry Salvatori Center is pleased to welcome William Kristol to the Athenaeum. Kristol is the editor and publisher of The Weekly Standard, a conservative journal of politics and ideas, and is a leading political analyst. A regular guest on Good Morning America, This Week, and The News Hour with Jim Lehrer, Kristol has established a reputation with his writings on political philosophy and public policy which have appeared in both popular and academic journals.

Kristol was chairman of the Project for the Republican Future prior to editing The Standard. There he played a key role in the fight against Bill Clinton's health care plan, and in the strategy that produced the Republican congressional victory of November 1994. Kristol also served as chief of staff to Vice President Dan Quayle during the Bush administration, and to secretary of education William Bennett under President Ronald Reagan.

Kristol attended Harvard University, where he earned a bachelors degree in government and a doctorate in political science. He has taught at the University of Pennsylvania and at Harvard's Kennedy School of Government. His talk will focus on American politics in the wake of the 1994 and 1996 elections. Kristol will assess the likelihood of a conservative electoral realignment and examine the present dynamics of the American political arena. Please join us for what promises to be an engaging and insightful evening.