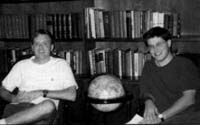 From the Fellows
JON BAARSCH '98
L. JOHN NELSON '98
Welcome to what we believe will be another good year (maybe the best yet) for the Marian Miner Cook Athenaeum. Both of us have been working hard to ensure that students will continue to have a voice in the selection of speakers and the planning of events. We believe that the Athenaeum makes a significant contribution to the intellectual and social life on our campus.

Reservations are required for Athenaeum dinners and should be made by returning the reservation page of The Fortnightly to the box in the Athenaeum lobby. Please cancel your meat reservation by noon on the day of the event if you cannot attend. No jeans, shorts, or T-shirts, please.

Afternoon teas in the Athenaeum have already begun, and we would like to encourage all of you to attend. Tea begins at 3:00 p.m. and lasts until 4:30 p.m., providing a perfect midafternoon break. An assortment of desserts are served, along with the ubiquitous rice crispy treats and a choice of coffee, tea, or fruit juice. In addition, Parents Library contains copies of numerous newspapers and magazines.

Please let us know if you have any questions about Athenaeum programs or suggestions for speakers.