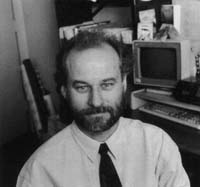 Is the Death Penalty Just?
GEORGE KENDALL
MONDAY, NOVEMBER 17, 1997
In September the Athenaeum and the Salvatori Center presented former Chicago prosecutor, William Kunkle, to argue the justice of the death penalty. Now we are pleased to welcome prominent capital litigator George Kendall of the NAACP Legal Defense and Educational Fund, Inc., to argue the other side of this highly controversial issue.

Kendall earned a B.A. in Philosophy and Government from the University of Richmond (Virginia) and a law degree from the Antioch School of Law in Washington, DC. In 1983 he became Staff Attorney for the American Civil Liberties Union's Eleventh Circuit Capital Litigation Project in Atlanta, Georgia. In this position, he represented numerous Georgia inmates with capital sentences in state and federal post-conviction proceedings.

In 1988 Kendall joined the NAACP Legal Defense Fund in New York as a staff attorney in its capital punishment project. In this capacity he handles capital cases at trial, on appeal, and in state and federal post-conviction proceedings. He regularly appears at seminars on capital litigation throughout the country and has taught courses on racism and the death penalty at Yale Law School and the Florida State University College of Law.

Kendall's presentation will focus on the administration of the death penalty in the two decades since the supreme Court upheld the new state statutes passed in the wake of Furman V. Georgia (1972). The states had promised that the new laws would remove or filter away the factors and circumstances that allowed racial discrimination, poverty, and other arbitrary factors to influence the capital sentencing process. Considerable empirical evidence now exists to answer the question whether the current administration of capital punishment is indeed just, or remains flawed with unfairness and arbitrariness.

You won't want to miss another provocative discussion of the justice of the death penalty cosponsored by the Athenaeum and the Salvatori Center.