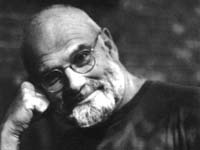 Neurology and the Soul
OLIVER SACKS
TUESDAY, FEBRUARY 3, 1998
The story told by Oliver Sacks in his 1973 book Awakenings is a tale straight out of Rip Van Winkle (1822) but more gripping for an astonishing reason: it's true. In 1969 eighty survivors of a 1920s sleeping sickness epidemic were found warehoused in a New York hospital. The disease hadn't killed them; it had frozen them in a decades-long, trancelike state. Sacks, then a professor at the Albert Einstein College of Medicine in the Bronx, became aware of these patients and gave them the new drug L-dopa. To the neurologist's amazement, the drug "woke up" the patients within weeks; however, the effects soon faded or disappeared. Awakenings chronicles the patients' reactions to regained awareness, and their struggles to account for lost lifetimes. It was adapted for a 1991 movie, starring Robin Williams as Dr. Sacks.

Sacks came to the United States in 1960 after his childhood in London and education at Oxford and has made his home here. He completed his internship in San Francisco in 1962, and did his residency in neurology at UCLA from 1962-65. In 1965 he accepted the position as a professor at the Albert Einstein College of Medicine. Soon after this appointment he had his first meeting with the patients chronicled in Awakenings.

As a physician and writer, Sacks's goal is to humanize medicine and to recognize the link between body and soul. In 1970 he published his first book Migraine, in which he explored the neuropsychiatric components of migraine headaches. Awakenings was his second book and was hailed by critics as "a masterpiece." Sacks recounted his experiences during a mountaineering accident in A Leg to Stand On (1984). His most recent bestseller, An Anthropologist on Mars: Seven Paradoxical Tales (1995), prompted The New York Times to say, "[He] is a most unusual man, as much a metaphysician as a physician, a sort of Isaac Bashevis Singer of the hospital ward."

In 1989 Sacks was the recipient of the Guggenheim Fellowship for his work on the neurological disorder Tourette's syndrome.

The Athenaeum is honored to host Professor Sacks. With support from the Gould Center and in cooperation with CMC's chapter of PBK, this lecture continues the series Questions of Civilization. Reservations for dinner are for CMC persons only. The lecture at 6:45 p.m. is open to all without prior reservations.