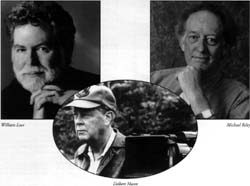 Conversation with the Writer and Director of Bronte: Bringing the Classics to Life in Film
WILLIAM LUCE
DELBERT MANN
MICHAEL RILEY
TUESDAY, MARCH 3, 1998
William Luce is probably best known for his plays and especially for the one-man/woman shows that he writes. The most famous of these, The Belle of Amherst (1976), about Emily Dickinson, has won many awards including a Tony for Best Actress to Julie Harris. He recently collaborated with director Delbert Mann to produce Bronte (1989), a one-woman show about the novelist Charlotte Bronte. The show exemplifies some of the recurring problems in filmmaking including adapting stage productions to film. This traditional problem becomes further complicated when the stage show only includes one character. Mann had previously directed a production of Jane Eyre (1970) for television.

Delbert Mann's many film awards include an Academy Award for the direction of Marty (1954) (which also received an Academy Award for Best Picture) and three Emmy nominations for Our Town (1955), Breaking Up (1977), and All Quiet on the Western Front (1979). His All Quiet on the Western Front won a Golden Globe for the Best Film for Television. Additionally, he has won five Directors Guild nominations and has directed more than 100 live television shows. Both David Niven and Wendy Hiller won Academy Awards for his film Separate Tables (1958). His television specials include Jane Eyre (1970), All Quiet on the Western Front (1979), All the Way Home (1981), Bronte (1989), and The Last Days of Patton (1986), the latter two with William Luce.

William Luce's new Broadway hit Barrymore (1997) stars Christopher Plummer as the legendary John Barrymore. Plummer won the 1997 Tony Award for Best Actor in the role. Luce's first Broadway and London hit was The Belle of Amherst. Luce's Broadway play Lucifer's Child (1993) reunited him with Harris in a drama about Isak Dinesen. Harris received a Tony nomination as Best Actress for this performance. Luce was a Writers Guild Award nominee for two CBS movies: The Last Days of Patton (1986), starring George C. Scott and Eva Marie Saint, directed by Delbert Mann; and the Emmy-nominated The Woman He Loved (1988). Luce's new play Nijinsky, directed by John Tillinger, will premier at Parco in 1998.

CMC literature professor Michael Riley, author of Conversations with Ann Rice (1996), will moderate the discussion. There will be a screening of Bronte on Monday, March 2 at 7:00 p.m. in Mary Pickford Auditorium to which everyone is cordially invited.