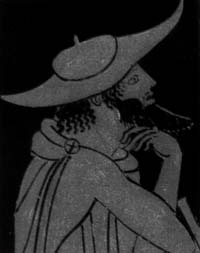 Dinner Theater
Oedpus at Colonus by Sophocles
THURSDAY-SATURDAY, APRIL 16-18, 1998 8:00 p.m.
Sophocles, whose life coincided with the golden age of Ancient Athens in the 5th century B.C., wrote more than 100 plays, of which only seven complete tragedies and fragments of 80 or 90 others have survived. During his lifetime Sophocles won first prize about 20 times at the annual Athenian contests, often competing against such luminaries as Euripidies and Aeschylus. Oedipus at Colonus is the closing of the famous trilogy including Oedipus Rex (about 427 B.C.) and Antigone (442 B.C.).

Oedipus is blinded and exiled and finds refuge in Colonus, a village near Athens. Here, in return for protection, he guarantees victory for Athens in a future war with Thebes. The victory will be won on the secret site of Oedipus' grave.

The Pomona College Department of Theatre & Dance in conjunction with the Marian Miner Cook Athenaeum at Claremont McKenna College is presenting this performance of Oedipus At Colonus (405 B.C.) by Sophocles, with translation by Robert Fagles. Theatre Arts Professor Thomas Leabhart directs. This play is part of the Athenaeum series Questions of Civilization.

Performances will be held April 16 - 18 at 8:00 p.m. at the Athenaeum and April 18 & 19 at 2:00 p.m. in the Seaver Theatre Courtyard. Dessert will be served following the evening performances. This event is free but reservations are necessary.