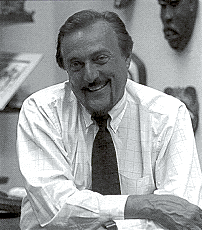 Phi Beta Kappa Visiting Scholar
The Psychology of Evil
PHILIP ZIMBARDO
TUESDAY, SEPTEMBER 15, 1998
Philip Zimbardo is the archetypal teacher/scholar on the Stanford University campus. After more than 120 research publications and 20 textbooks, psychology professor Zimbardo says he still has so much to write that he would have to retire from teaching to get it all done.

Zimbardo has won more than 24 awards, including seven outstanding teaching awards, the most recent in spring of 1995. Furthermore, he has taught more students, for more credits, in a greater variety of courses, than any other professor in Stanford's history.

Zimbardo graduated with honors from Brooklyn College in 1954 and received his master's and doctorate degrees from Yale University. He began teaching at Yale in 1958 and in 1961 moved to New York University. He has been at Stanford University for the last 27 years.

Since 1970 Zimbardo has been director of the University's Social Psychology Graduate Research Training Program. He is the founder and codirector of the Shyness Clinic/Shyness Institute, and has also written a 26-part video teaching series called Discovering Psychology, which was aired on PBS (1990).

In addition to his shyness studies, he is best known for his work on the psychology of evil: ways in which good people can be seduced into doing something evil.

During the 1998-99 academic year, the Athenaeum will be hosting a lecture series entitled "Integrity, Commitment, Achievement" which will focus on the importance of character education to the individual, and to society. Professor Zimbardo will inaugurate this series with his lecture "The Psychology of Evil"- with an eye toward good character development.

Please join the Athenaeum and CMC's chapter of Phi Beta Kappa for what promises to be a provocative lecture and discussion by an outstanding teacher and scholar.