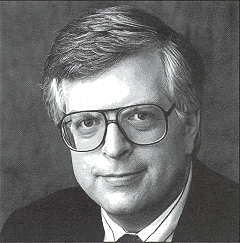 The Assault on Personal Responsibility
DENNIS PRAGER
WEDNESDAY, SEPTEMBER 23, 1998
Dennis Prager is an amazingly gifted man and moralist whose mission in life has been crystallized- "to get people obsessed with what is right and wrong. "

-The Los Angeles Times

Writer, lecturer, and author Dennis Prager is one of America's most respected radio talk show hosts and commentators. He has been broadcasting on KABC Radio since 1982, from noon to 3:00 p.m. daily. A fiercely independent man, Prager's opinions on human relations, child rearing, and sex differences are as engaging, and sometimes controversial, as his views on religion, international relations, and morality.

After graduating from Brooklyn College with a double major in anthropology and history, Prager studied Marxism for two years at the Russian Institute at Columbia University under Zbigniew Brezinski (who later served as foreign relations advisor to President Carter). Prager was appointed by President Ronald Reagan as a delegate to the Vienna Review Conference on the Helsinki Accords. A true Renaissance man, he is also an amateur musician. He periodically conducts orchestras, and through his writings and broadcasts has introduced classical music to vast numbers of people.

Prager's most recent book, Happiness Is A Serious Problem: A Human Nature Repair Manual, was published last February by Harper Collins and immediately appeared on the Los Angeles Times best-seller list. He has also coauthored two major works on Judaism: The Nine Questions People Ask About Judaism (1981), now in six languages, and Why the Jews? The Reasons for Anti-Semitism (1983), regarded by many as the most persuasive explanation of anti- Semitism written.

Prager's lecture is part of the Athenaeum series Integrity, Commitment, Achievement.