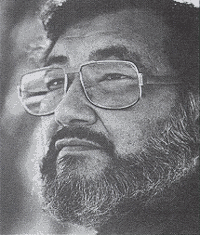 Author Reads from His Work
N. SCOTT MOMADAY
MONDAY, OCTOBER 5, 1998
One of the most versatile figures in American literature today, N. Scott Momaday has achieved distinction in fiction, poetry, drama, painting, and teaching. In addition to his prodigious artistic output, Momaday, who holds a Ph.D. in English literature from Stanford University, has taught at Stanford, Berkeley, Columbia, Princeton, and the University of Arizona, where he is now Regents Professor of Humanities. While his work is deeply rooted in Native American traditions, especially those of his Kiowa heritage, its concerns with identity, language, and the imagination go far beyond the confines of any single ethnic identity or cultural context. Thus, Momaday's own achievement reflects his observation that "the contemporary Native American ... stands now to realize himself in the whole world, having at last stepped out of the museum that we have made of his traditional world."

Raised in the Southwest, Momaday graduated from the University of New Mexico and went on to Stanford where he won a Wallace Stegner Creative Writing Scholarship. While at Stanford, he worked both with novelist Wallace Stegner and poet Yvor Winters. In 1969 Momaday's first novel, House Made of Dawn, received the Pulitzer Prize for fiction. His other books include The Names: A Memoir (1976), The Gourd Dancer (1976), The Ancient Child (1989), In the Presence of the Sun: Stories and Poems, 1961-1991 (1992), and a children's book, Circle of Wonder: A Native American Christmas Story (1994). In 1974 during a teaching visit to Russia, Momaday turned seriously to drawing and painting; since then he has illustrated many of his own books and has had highly acclaimed picture exhibitions throughout the United States.

A much sought-after speaker, Momaday will read from his own work, including poems from his forthcoming book In The Bear's House (1999). Dr. Momaday's appearance is sponsored in part through the support of the Gould Center for Humanistic Studies.