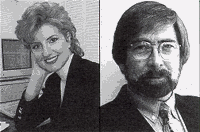 Left and Right: Debating Issues of the 1998 Election
ARLANNA HUFFINGTON
ROBERT SCHEER
WEDNESDAY, OCTOBER 7, 1998
On the political left is Robert Scheer, lecturer at the USC Annenberg School for Communication, contributing editor and columnist for the Los Angeles Times, and author of five books including Thinking Tuna Fish, Talking Death: Essays on the Pornography of Power (1988); and With Enough Shovels: Reagan, Bush, and Nuclear War (1982). Many people remember the Playboy magazine interview in which President Jimmy Carter admitted that he had "lusted in his heart" (1976). What fewer people remember is that the interviewer was Robert Scheer.

Scheer majored in economics at the City College of New York, studied as a Maxwell Fellow at Syracuse University, and completed his graduate work in economics at the University of California at Berkeley. He currently teaches at UCLA.

On the right is Arianna Huffington, chair of the Center for Effective Compassion, a nationally syndicated columnist, and author of seven books, including biographies of Pablo Picasso- Picasso: Creator and Destroyer (1988), Maria Callas- Maria Callas: The Woman Behind the Legend (1983), and most recently, her first novel, a satire called Greetings from the Lincoln Bedroom (1998).

Born in Greece, Huffington moved to England at the age of 16 and graduated from Cambridge University where she received her degree in economics. While at Cambridge, she was president of the famed debating society, the Cambridge Union.

With barely a month until the 1998 fall election, Huffington and Scheer will face off in a debate about education, tax cuts, Native American sovereignty, and health care. Which side will prevail? While the voters will ultimately decide, Sheer and Huffington will offer their predictions, opinions, and political insights.

Whether you are on the left, right, or in the center, come and learn about the issues on which we will vote, pose your questions to the debaters, and enjoy an evening of political conversation. This event is jointly sponsored by the Salvatori Center and the Marian Miner Cook Athenaeum. Join us in welcoming these two spirited and contentious debaters.