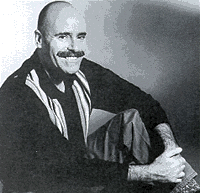 A Reading
BERNARD COOPER
MONDAY, NOVEMBER 2, 1998
Bernard Cooper is going to surprise you. Nothing will prepare you for his hybrid of memoir and fiction or his open-hearted, humorous readings and lectures. Cooper's prose is resonant and exquisitely crafted. Growing up gay and middle class in the Los Angeles of the 1950s and 60s, sexuality, familial, relationships, loss, and AIDS-these are among Cooper's primary subjects.

Through them all, he expresses his deepest concern: how the writer explains identity by traveling the terrain of memory. Masterfully recalling details with delicacy and uncontrived finesse, Cooper reveals a wisdom in his looking back that ultimately transforms the way we examine our own lives. Winner of the PEN/Ernest Hemmingway Award in 1991 and the 0. Henry Prize in 1995, Cooper teaches at Antioch/ Los Angeles and at the UCLA Writers Program.

In his visit to the Athenaeum, Cooper will read from his two collections of memoirs: Maps to Anywhere (1990) and Truth Serum: Memoirs (1997). His work has appeared in Harpers, Paris Review, The New York Times Magazine, and in anthologies such as The Best American Essays (1988, 1995, 1997), and the Oxford Book of Literature on Aging (1994).