Athenaeum Location
Print Newsletter
November 9, 1998
Vol. 14, No. 05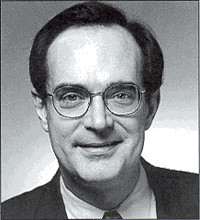 Science, Technology, and the Wealth of Nations
CHRISTOPHER DeMUTH
MONDAY, NOVEMBER 9, 1998
Christopher DeMuth is one of the nation's leading architects of political thought. As President of the American Enterprise Institute (AEI) for Public Policy Research in Washington, D.C., DeMuth runs one of the nation's preeminent think-tanks. AEI is actively involved in addressing some of the most pressing issues of the day including the Microsoft dispute, the U.S. military presence in Bosnia, and social security privatization.

DeMuth has been a Washington policy insider for years. Before coming to AEI in 1986, he was managing director of Lexecon, Inc. an economics consulting firm; administrator of regulatory affairs for the Office of Management and Budget under President Reagan; executive director for Reagan's Presidential Task Force on Regulatory Relief; as well as a lecturer at the Kennedy School of Government and Director of the Harvard Faculty Project on Regulation.

A lawyer by training, DeMuth's articles on government regulation and other topics have appeared in The Public Interest, The Harvard Law Review, The Yale Journal on Regulation, The Wall Street Journal, Commentary, and The American Enterprise.

In his lecture DeMuth will focus on the advancements in biotechnology and the disparity in economic growth between the West and third world countries. DeMuth's evening at the Athenaeum is sponsored by the Salvatori Center.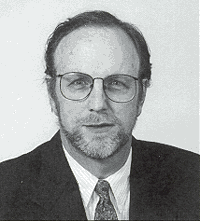 Chinese Security Policy
MICHAEL SWAINE
TUESDAY, NOVEMBER 10, 1998 12:30 p.m.
The Keck Center for International and Strategic Studies is sponsoring a luncheon with Dr. Michael Swaine, where he will deliver the second lecture in the series on International Security Issues.

Widely recognized as an outstanding analyst of China's contemporary military affairs, Swaine will discuss Chinese security policy. He is a senior political scientist in international studies at RAND in Santa Monica and research director of the RAND Center for Asia-Pacific Policy (CAPP). Prior to joining RAND in 1989, Swaine was a consultant in the business sector, a postdoctoral fellow at the Center for Chinese Studies at UC Berkeley, and a research associate at Harvard University.

Swaine holds a Ph.D. from Harvard and a bachelor's degree from George Washington University. His recent writings include The Role of the Chinese Military in National Security Politymaking (revised edition, 1998); China: Domestic Change and Foreign Policy (1995); The Modernization of the Chinese People ~ Liberation Army: Prospects and Implications for Northeast Asia (1994); and The Military and Political Succession in China: Leadership, Institutions and Beliefs (1992).

Lunch begins at 12:00 noon and Dr. Swaine will speak at 12:30 p.m.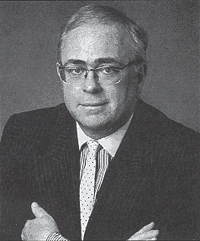 Crescit Cum Commercio Civitas
KEVIN STARR
TUESDAY, NOVEMBER 10, 1998
Author of Commerce and Civilization, Claremont McKenna College: The First 50 Years, 1946-1996 (1998), Kevin Starr is no stranger to CMC. In fact, his book is the culmination of his study of Claremont McKenna College commissioned on the occasion of CMC's 50th anniversary.

No stranger to the study of philosophy and history, Starr is currently serving as the State Librarian of California. He has published several books including Endangered Dreams: The Great Depression in California (1996)and Material Dreams: Southern California Through the 1920s (1990). He is now in the process of drafting War and Return: California to 1950. Starr has also been featured in numerous popular magazines, newspapers, and academic journals including the Los Angeles Times, The New Republic, Western History, and The Washington Post.

Starr has taught at prominent colleges and universities on both coasts. Currently, he is a professor at the School of Urban and Regional Planning at the University of Southern California.

Upon completion of his undergraduate studies at the University of San Francisco, Starr enlisted in the U.S. Army for a two year tour of duty in Sandhofen, Germany. Following his active duty, Starr went on to receive a doctorate degree in philosophy from Harvard University.

Kevin Starr's lecture is sponsored by the Res Publica Society of Claremont McKenna College.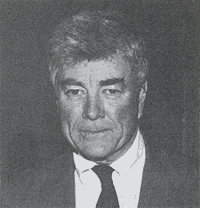 Commemorating Veterans Day
PAUL (PETE) McCLOSKEY, JR.
WEDNESDAY, NOVEMBER 11, 1998
The Athenaeum welcomes former Congressman Pete McCloskey, Jr. to present the 6th annual lecture in commemoration of Veterans Day. A former Marine, McCloskey received the Navy Cross and Silver Star for heroism and two Purple Hearts for wounds received in action as a Second Lieutenant during the Korean War. He retired from the Marine Corps in 1974 as a Colonel.

McCloskey first ran for Congress in 1967, and won the special election race. He was subsequently elected seven times to represent California's 12th Congressional District and retired in 1983. During his tenure, McCloskey served on the Government Operations Committee, Merchant Marine and Fisheries Committee, and the Select Committee on Population as well as the House Chairman of the Environmental and Energy Study Committee. In 1972, McCloskey ran against President Nixon during the Republican primaries, challenging Nixon's Vietnam War policy.

McCloskey has served as president of the Conference of Barristers of the State Bar of California, as a trustee for both the Monterey Institute of International Studies and the U.S. Marine Corps Academy, and as president of the Council for the National Interest which advocated a balanced U.S. policy in the Middle East. President Bush appointed him to the board of directors of the U.S. Commission on National and Community Service on which he served as the board's first chairman from 1991-1992.

Currently practicing law in Woodside, California, McCloskey has authored several books, including The Taking of Hill 610, and Other Essays of Friendship (1992) which tells the story of a famous Marine Corps engagement during the Korean War.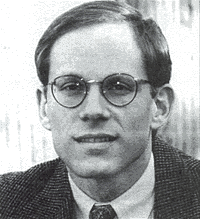 Developments on the HMO Battlefield
GEORGE ANDERS
THURSDAY, NOVEMBER 12, 1998
A member of a Pulitzer Prize-winning team of health care reporters at The Wall Street Journal, George Anders began his career with the paper as a New York-based copyeditor in 1978. From 1985 to 1992 he was a senior special writer on stock market trends, writing about many of Wall Street's most controversial figures of the 1980s. He later wrote the newspaper's noted "Heard on the Street" column and served as the London bureau chief of the Journal's European edition.

Anders' 1996 book Health Against Wealth: HMOs and the Breakdown of Medical Trust on the managed care industry was termed "must reading" by the Journal of the American Medical Association. A recent PBS Frontline report drew heavily on materials in the book. He was part of a seven-person team of Wall Street Journal reporters who were awarded the 1997 Pulitzer Prize for National Reporting for a series on the scientific, financial and moral implications of breakthrough drugs used in the treatment of AIDS. Subsequent articles have focused on how a single firm dominates the medical guidelines consulting business, how some mid-career doctors are going back to earn MBAs, and how HMOs are caught between demands of employers for tight health care costs and patients who demand more specialized services.

Anders' Merchants of Debt: KKR and the Mortgaging of America (1992) was cited by Businessweek as one of the eight best business books of 1992. A graduate of Stanford University with a bachelor's degree in economics, Anders is a periodic guest on National Public Radio, CNBC, BBC Radio, and Japan's Ashi-TV. Anders is one of three experts on health care issues featured by the Athenaeum this semester in conjunction with CMC's new Government 105 course, Organization of Health Care and Public Policy, taught by Professors Fred Lynch and Judith Merkle.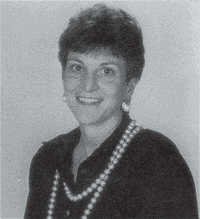 The Leader Within
AMY WEBB
MONDAY, NOVEMBER 16, 1998
Some believe that leadership is a set of skills. Others view leadership as a trait with which one is born. Amy Webb, an organizational psychologist who has practiced for over twenty years, will share her thoughts on the propensity to lead during her presentation on The Leader Within.

Webb has had rich and diverse professional experiences including managing corporate human resource departments, conducting research on executive and organizational learning, designing and delivering executive development programs, and teaching and administering federal grant-funded programs. She has counseled chairmen, chief executive officers, and top management teams of major domestic and international companies. Her Fortune 500 clients include Motorola, SCJohnson Wax, Hasbro, and First Union. Webb has also worked with government leaders in the United States and Canada. She has consulted with the U.S. Army, school superintendents of districts in North Carolina and Florida, the National Council for state Legislators, and senior leaders in the Canadian government.

In the field of education, Webb designed and conducted programs for students from high schools in Lower Merion, Pennsylvania, as well as in Florida and North Carolina.

Her research interests include building leadership confidence and personal congruence as well as understanding how individuals learn to lead. Currently, she is the principal of The Webb Group and a member of the adjunct faculty of the Center for Creative Leadership in Greensboro, North Carolina.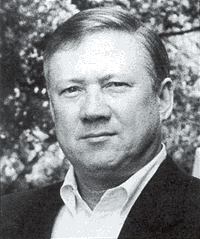 The Military Situation in Russia with Emphasis on Air Power
BENJAMIN LAMBETH
TUESDAY, NOVEMBER 17, 1998 12:30 p.m.
For the final lecture in the series International Security Issues, the Keck Center for Strategic Studies is hosting a luncheon with Dr. Benjamin Lambeth, a senior staff member at RAND. A civil-rated pilot, Lambeth has flown in more than thirty-five different fighter, attack, and jet trainer aircraft types with all of the U.S. Air Force, Navy, and Marine Corps tactical air arms, as well as with eight foreign air forces. In 1989, he became the first U.S. citizen to fly the Soviet MiG-29 fighter and was the first Westerner invited to fly a combat aircraft of any type inside Soviet airspace since the end of World War II. He has since flown the Su-27, MiG-23, and MiG-21 in Russia.

Lambeth graduated from the University of North Carolina and received his doctorate from Harvard University. Before joining RAND in 1974, he served as a senior analyst in the Central Intelligence Agency. Lambeth has written some six dozen articles and monographs on Soviet and Russian military affairs, air power, and other defense matters. In addition, Lambeth has authored two forthcoming books- Weakened Wings: Russia's Air Power in Crisis and The Maturation of American Air Power.

The luncheon will begin at 12:00 noon and Dr. Lambeth will speak at 12:30 p.m.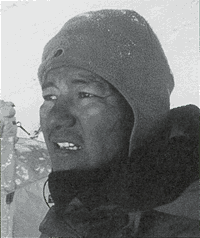 The Norgay Story: A Family Legacy of Adventure
JAMLING TENZING NORGAY
TUESDAY, NOVEMBER 17, 1998
When he climbed Mount Everest in 1996 as a member of the IMAX/IWERKS Everest Expedition, Jamling Tenzing Norgay followed in his father's footsteps and fulfilled a life-long dream.

Tenzing Norgay, Jamling's father, was the Sherpa who climbed to the top of the world with Sir Edmund Hillary in May 1953. The two men were the first to reach the 29,028-foot summit.

Since the age of 18, Jamling had wanted to climb Everest and repeat his father's historic assent. He carried a copy of his father's biography with him on the journey. As he approached the summit, Jamling reported feeling his father's presence. "I've never felt so strong in my life," the young Norgay reported, "He [Tenzing Norgay] was probably watching over me at that point."

Jamling was a critical member of the IMAX/IWERKS expedition team. He was the team's climbing leader. He also helped rescue survivors of another ill-fated group. Jamling even narrated part of the IMAX film.

Jamling studied at Northland College in Wisconsin and then returned to live in the Himalayas so as not to lose his family's roots. He is currently based in Darjeeling, India.

During his lecture and slide presentation, Jamling Norgay will focus not only on his ascent of Mt. Everest, but also on the remarkable Himalayan people and their respect for the spirit of the mountain.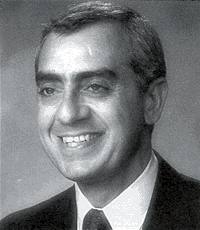 California Politics: An Overview
KENNETH KHACHIGIAN
WEDNESDAY, NOVEMBER 18, 1998
The 1998 election offered California voters a host of issues on which to decide: candidates for governor and United States Senate as well as a score of propositions, ranging from congressional redistricting to class size reduction in our state public schools. Often, too, it was difficult to keep them all straight. The election results, nevertheless, have important implications for California. What do the election results mean for these issues?

An expert on reading California's political winds, Ken Khachigian is one of the state's senior political strategists. He has been involved in politics on the state and national level for 30 years. Khachigian began as a speechwriter and political aide in the Nixon White House. After serving the former president as a writing and research consultant for his memoirs, Khachigian joined the Reagan for President campaign as chief speechwriter and communications advisor.

Khachigian collaborated with President Reagan on his first inaugural address, two State of the Union speeches, two Republican Convention addresses, and dozens of other major presidential remarks. He also traveled as a senior adviser and speechwriter during Reagan's 1984 re-election campaign, and again for the Bush-Quayle effort in 1988. Khachigian was George Deukmejian's principal strategist in both of his races for governor and was chair of Dan Lungren's two races for Attorney General. In 1992, he managed Bruce Herschensohn's near-miss Senate campaign and was a strategist for Mike Huffington. During the last presidential campaign, Khachigian was National Senior Adviser to the Dole-Kemp team, managing the race in California.

As the founding member of the Los Angeles and Orange County law firm, Smiland and Khachigian, which focuses on governmental affairs as well as public and regulatory law, Khachigian will provide an overview of California politics following the recent election. The Athenaeum is pleased to welcome Ken Khachigian as the concluding participant in our Politics 1998 series.
Educating Doctors for the Twenty-first Century
MICHAEL WILKES
THURSDAY, NOVEMBER 19, 1998
As Associate Director for UCLA's Center for Educational Development and Research, Michael Wilkes is the senior chair of the innovative, new "Doctoring" curriculum, designed to prepare medical students for the many medical challenges of the twenty-first century. He has published articles on a wide variety of topics in professional medical journals and has also contributed to discussion in major news media forums. For seven years he was National Public Radio's morning medical commentator. He was also the medical director of ABC Primetime's "Vital Signs," and a medical columnist for The New York Times Magazine.

A RAND Corporation consultant, Wilkes' recent research topics include articles on "Attitudes Toward Managed Care," "Heart Transplant Selection Criteria," "Violence Prevention," and a number of articles on AIDS including a chapter on the topic for Columbia University's College of Physicians and Surgeons Complete Medical Guide (1989).

The recipient of two doctoral degrees, one in medicine from the University of Connecticut and another in public health from UCLA, Wilkes began his medical career in 1978 as a paramedic while completing his A.B. in film studies at Vassar College. He has been active in community projects and is currently director of the High Risk Comprehensive Adolescent Medicine Clinic at UCLA's Venice Family Clinic.

Wilkes is the third expert on health care issues featured by the Athenaeum this semester in conjunction with CMC's new government course, Organization of Health Care and Public Policy, taught by Professors Fred Lynch and Judith Merkle.