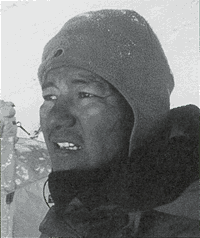 The Norgay Story: A Family Legacy of Adventure
JAMLING TENZING NORGAY
TUESDAY, NOVEMBER 17, 1998
When he climbed Mount Everest in 1996 as a member of the IMAX/IWERKS Everest Expedition, Jamling Tenzing Norgay followed in his father's footsteps and fulfilled a life-long dream.

Tenzing Norgay, Jamling's father, was the Sherpa who climbed to the top of the world with Sir Edmund Hillary in May 1953. The two men were the first to reach the 29,028-foot summit.

Since the age of 18, Jamling had wanted to climb Everest and repeat his father's historic assent. He carried a copy of his father's biography with him on the journey. As he approached the summit, Jamling reported feeling his father's presence. "I've never felt so strong in my life," the young Norgay reported, "He [Tenzing Norgay] was probably watching over me at that point."

Jamling was a critical member of the IMAX/IWERKS expedition team. He was the team's climbing leader. He also helped rescue survivors of another ill-fated group. Jamling even narrated part of the IMAX film.

Jamling studied at Northland College in Wisconsin and then returned to live in the Himalayas so as not to lose his family's roots. He is currently based in Darjeeling, India.

During his lecture and slide presentation, Jamling Norgay will focus not only on his ascent of Mt. Everest, but also on the remarkable Himalayan people and their respect for the spirit of the mountain.