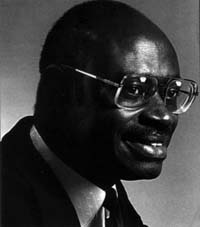 Martin Luther King, Jr. Birthday Celebration: The Old Ship of Zion
HORACE CLARENCE BOYER
MONDAY, JANUARY 25, 1999
African American gospel music has its origins in the slave song, field hollers, and Negro Spirituals that sustained and perpetuated the culture of the rural African American and provided a complementary strength during the period of enslavement. By the 20th century it had evolved into a more emotional and jubilant black religious music, an urban counterpart of the spiritual and blues, which reflected the new freedom of religious, social, and political consciousness of African Americans.

Horace Clarence Boyer, a professional gospel singer, will present a guided tour through each stage of development of gospel music. As a vocal soloist, Boyer has appeared in numerous solo recitals. His lecture/concert four years ago is remembered as one of the Athenaeum's most outstanding and inspirational programs. As a musical director, Boyer has overseen several musicals including James Baldwin's Blues for Mr. Charlie in association with the author. He has been curator of musical instruments at the National Museum of American History, Smithsonian Institution, during which time he directed the famed Fisk Jubilee Singers. With his brother James, the Boyer Brothers performed with such artists as Mahalia Jackson and Dorothy Love Coates, recording on the Savoy and Nashboro labels.

Boyer holds a Ph.D. from the Eastman School of Music and is a professor of music at the University of Massachusetts at Amherst. Boyer's most recent book How Sweet the Sound: The Golden Age of Gospel was published in 1995.