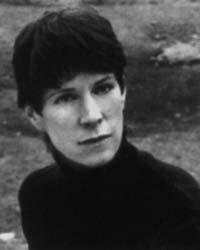 Poet Reads From Her Work
CHASE TWICHELL
MONDAY, APRIL 5, 1999 4:00 p.m.
The death of nature and the birth of the meditative self are themes of Chase Twichell's two most recent collections of poems, The Ghost of Eden (1995) and The Snow Watcher (1998). Audacious and beautiful, her poems focus on the vanishing wilderness of the Adirondacks in upstate New York. It is a world inhabited by the fox, the bear, and the fishercat. One is rabid, another dead, the third a life-sustaining dream. The "ghost" is our disinherited Eden and the author's self from whom the elegy for this lost world is wrenched. With continued audacity and rawness, Twichell continues her journey into the self, moving from west to east in her process of meditation that often startles as it breaks through the barriers we inhabit.

Chase Twichell's previous books of poetry are Northern Spy, The Odds (1986), and Perdido (1999). Individual poems of hers have appeared in The Georgia Review, The New Yorker, New England Review, The Paris Review, and the Yale Review. A recipient of the Di Castagnola Award from the Poetry Society of America, she lives near Keene, New York, and part of the year in Princeton, New Jersey, where she has taught at Princeton University.

Please join us for this reading at 4:00 p.m. in the Childs Lounge of the Athenaeum, followed immediately by a reception. No reservations are needed to attend.