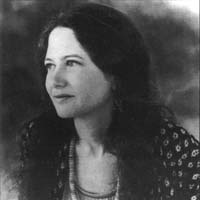 Poet Reads From Her Work
JANE HIRSHFIELD
MONDAY, APRIL 12, 1999
A radiant and passionate poet, Jane Hirshfield explores the territory of our inner and outer worlds. Known as one of our foremost poets of the natural world, Hirshfield reveals how elements of nature hold fundamental human truths: about fortitude and loss, separation and wholeness, and the perseverance of passion. Using a range of formal approaches, she never loses sight of the primary function of the lyric poem; to provide a deepening and widening sense of what it is to be awake to the deep currents of daily life. Hirshfield is the author of four collections of poetry including, most recently, The Lives of the Heart: Poems (1997).

A noted essayist, translator, and anthologist, Hirshfield has received much praise for her work. U.S. Poet Laureate Robert Pinsky said of her collection of essays Nine Gates: Entering the Mind of Poetry (1997). "Hirshfield dares to write about the mysteries of art, and she approaches each poem in a way that feels exactly right to me: plainly, reverently, intelligently." Pulitzer-prize winner Gary Snyder observed, "Hirshfield's territory reaches from ancient Greece to traditional Japan ... for those who want it, here's guidance toward the power of being in the margin, the calm ease of being in the center."

Jane Hirshfield has received a Guggenheim Fellowship, a Rockefeller Foundation Bellagio Fellowship, and Columbia University's Translation Center Award. Her work has appeared in The New Yorker, The Atlantic, and The Nation. Please join us for a reading by a luminous poet.