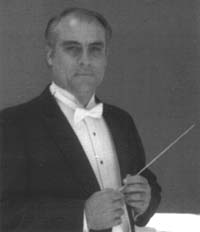 Brahms: Musician, Composer, Individual
MICHAEL DEANE LAMKIN
WEDNESDAY, APRIL 21, 1999
Michael Deane Lamkin is one of Claremont's most respected musicians, as well as a popular teacher and prolific conductor. Professor of Music at Scripps College and director of the joint music program at Claremont McKenna, Harvey Mudd, Pitzer, and Scripps Colleges since 1977, he is also music director and conductor of the Claremont Concert Orchestra. During the summer term Lamkin serves as Associate Conductor and Managing Director of the Classical Music Festival of Eisenstadt, Austria.

Lamkin has held guest conducting appointments with the Opera School of the Conservatory of Music in Munich, the Iowa Center for the Arts, the AIMS Midsummer Nights Festival in Graz, Austria, and has been guest conductor of the Slovak National Chamber Orchestra. Lamkin is a graduate of Baylor University and the University of Iowa. Currently, he is Dean of the Faculty at Scripps, is also on the faculty at CGU, and is principal conductor at the Claremont United Church of Christ.

Professor Lamkin will use slides and tapes to highlight the discussion about Johannes Brahms and preview the upcoming performance of the German Requiem.

The Claremont Concert Orchestra and Concert Choir will perform this monumental work by Brahms on Saturday, April 24th, at 8:00 p.m. and Sunday, April 25th, at 3:00 p.m. in Bridges Hall of Music.