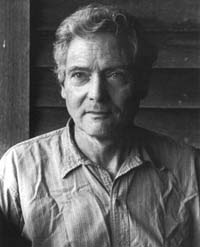 The Folding Cliffs: A Narrative of 19th Century Hawaii
W. S. MERWIN
THURSDAY, APRIL 22, 1999
Winner of both the Pulitzer and Bollingen Prizes for poetry, W. S. Merwin has achieved a milestone in his distinguished career with the publication of The Folding Cliffs: A Narrative of 19th Century Hawaii (1998). This thrilling verse epic tells the story of an attempt by the government to seize and constrain possible victims of leprosy and the determination of one small family not to be taken. It is a tale of their flight into the wilds of the island of Kauai, pursued by a gunboat full of soldiers. Merwin captures the life and history of a people, the gods and goddesses of their mythic past with grandeur and vision.

Merwin has lived in and written about many parts of the world, most recently, Hawaii, and has received the Governor's Award for Literature of the State of Hawaii. He is the author of sixteen volumes of poetry and four of prose. Merwin's most recent collection, The River Sound: Poems (1999), contains the stunning elegy "Lament for Makers," and the fascinating meditations on memory "Testimony" and "Suite in the Key of Forgetting." Merwin is also among our greatest translators, and he is currently at work on translations from Dante's Purgatorio (forthcoming 2000).

Born in New York City in 1927, Merwin grew up in Union City, New Jersey and in Scranton, Pennsylvania. From 1949 to 1951 he worked as a tutor in France, Portugal, and Majorca.

Please join us for a reading from a masterpiece by one of the great poets of our time. This is the final part of the series The American Epic.