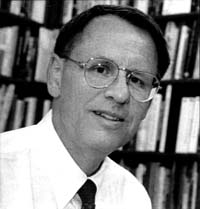 American Dream and Holocaust Questions: Reflections on Integrity, Commitment, Achievement
JOHN ROTH
THURSDAY, APRIL 15, 1999
As the Russell K. Pitzer Professor of Philosophy at Claremont McKenna College, John Roth has distinguished himself both as a teacher and a scholar.

After completing his undergraduate studies at Pomona College and his graduate degrees at Yale University, Roth returned to teach at CMC and has remained a member of the faculty for over thirty years. Recognized by both students and faculty alike, Roth received the G. David Huntoon Senior Teaching Award in 1995 and the Crocker Award for Excellence on three occasions. In 1988, the Council for Advancement and Support of Education and the Carnegie Foundation for the Advancement of Teaching named Roth U.S. National Professor of the Year.

As a scholar Roth has authored, coauthored, or edited more than twenty-five books and hundreds of articles and reviews. His books include A Consuming Fire: Encounters with Elie Wiesel and the Holocaust (1979), Approaches to Auschwitz: The Holocaust and its Legacy (1987) (with Richard L. Rubenstein) and, most recently, Private Needs, Public Selves: Talk About Religion in America (1997). Roth has also served as a member of the United States Holocaust Memorial Council and is the former chair of the California Council for the Humanities.

Roth has lectured and taught throughout the world. As a visiting professor, he taught at the University of Haifa in Israel. In 1995-96 Roth traveled throughout Norway as Fulbright Lecturer in American Studies.

His lecture will combine themes from two of his academic interests and will conclude the Athenaeum series Integrity, Commitment, Achievement.