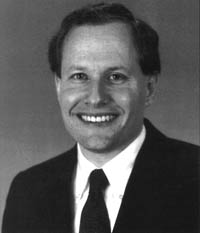 Liberalism, Conservatism, and the 2000 Election
WILLIAM KRISTOL
THURSDAY, OCTOBER 28, 1999 12:15 p.m.
No person is more qualified to discuss liberalism, conservatism and the political future than William Kristol. One of America's leading political analysts, he is the editor and publisher of The Weekly Standard, a national conservative political magazine. Kristol has appeared on Good Morning America, This Week, and The News Hour with Jim Lehrer to discuss American politics and conservative ideas.

Prior to editing The Weekly Standard, Kristol directed the Bradley Project on the 90s, a Bradley Foundation program to survey America's social, economic and cultural landscape during the past decade. He also chaired the Project for a Republican Future where he played a key role in the defeat of Clinton's health care plan and in the 1994 Republican Revolution.

Kristol served as Chief of Staff to Vice President Quayle during the Bush administration and to Cabinet Secretary William Bennett from 1985 to 1988. Prior to serving in the Executive Branch, Kristol was Assistant Professor of Public Policy at the Kennedy School of Government at Harvard, where he had received his A.B. and Ph.D. degrees. Kristol currently serves on the Henry Salvatori Center's Board of Directors. He joins us for a lunch, cosponsored by the Salvatori Center, to discuss liberalism, conservatism, and the 2000 elections.