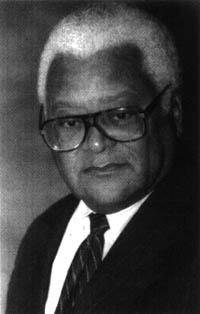 Martin Luther King Jr. Birthday Celebration
JAMES LAWSON
THURSDAY, JANUARY 20, 2000 12:00 p.m.
Rev. James Lawson has been called the "teacher" of the Civil Rights Movement, and the "leading nonviolence theorist of the world" by Jessie Jackson and Martin Luther King, Jr. respectively. While a student at Vanderbilt Divinity School, he became the chief organizer of the Nashville sit-in, an effort Martin Luther King Jr. called "the model for our movement" in non-violent efforts to promote desegregation of public facilities.

From 1957 until 1974, Lawson gave inspired leadership to movements for justice in the South. With Dr. Martin Luther King, Jr. he co-founded the student non-violent Coordinating committee in 1960. He coordinated the Freedom Ride in 1961 and the Meredith March in Mississippi in 1966. From high school in Ohio, through his matriculation and expulsion from Vanderbilt Divinity School, to his pastorship and retirement from LA's Holman United Methodist Church, Rev. Lawson has worked for social justice through principled, nonviolent tactics. Minister of the gospel and prophet to the nation, James Lawson continues to bring hope and reconciliation to those whose lives he touches.