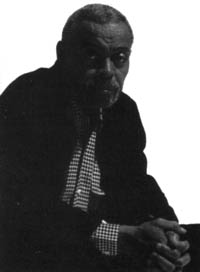 Poetry Reading
AMIRI BARAKA
TUESDAY, FEBRUARY 15, 2000
Amiri Baraka is a talented and original poet, playwright, and activist, who has had a profound influence on modern drama, verse, and artistic expression. Amin Baraka was born Leroi Jones in Newark, New Jersey, in 1934. He earned a science scholarship to Rutgers University, but soon transferred to Howard University where he studied philosophy, religion, and German, while concentrating in English literature. Two years later Baraka dropped out of college to join the Air Force. He served as a gunner on a B-36 stationed in Puerto Rico, but spent most of his military career reading. When he left the service in 1957, he moved to the lower east side and joined the New York beat poetry community. Baraka became coeditor of an avant-garde literary magazine that published works by beat poets such as Allen Ginsberg and Jack Kerouac. It was in this magazine, Yugen, that Baraka first published his own work. He also published reviews, poems, essays, and letters in numerous small magazines. In 1959 Baraka founded Totem Press. That same year he was invited to Cuba and soon after began writing social commentaries and drama. Baraka became an instant icon after the successful production of his three dramatic works The Toilet (1962), Dutch Man (1963), and The Slave (1962). He took teaching positions at Columbia University and the University of Buffalo, received numerous literary awards, and published a social history of African-American music.

In the mid-60s, caught in an era of riots, social upheaval, and change, Baraka abandoned the avant-garde community and moved to Harlem. There his writing and dramatic work became confrontational, Afro-centric, and often violent. He changed his name and opened a theater that was closed when police claimed to have found an arsenal of weapons. He reopened in Newark and was jailed during the aftermath of the Newark riots. When he emerged, he became politically active, organizing a black power conference and supporting a mayoral challenger. In the mid-70s, Baraka's writing and work took another turn when he embraced Marxism. Throughout his career, he rejected the differentiation between the object that is art and the artist. Baraka's work is both powerful and highly personal.

It is an honor for the Athenaeum to host this great American poet.