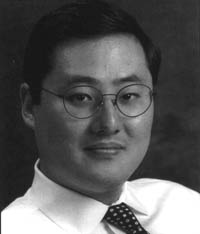 Globalism, the Constitution, and American Democracy: Why Do We Bomb Kosovo But Not Kill Sea Turtles?
JOHN YOO
THURSDAY, FEBRUARY 17, 2000
Will globalism in the 21st century render the U.S. Constitution obsolete? Discussing this pressing question is John C. Yoo, a professor of law at the University of California at Berkeley's Boalt Hall School of Law. Using Kosovo as his case study, Professor Yoo will tackle what he believes to be most significant challenge to the U.S. constitution in the 21st century: globalism. While acknowledging the legitimacy of Clinton's military intervention, Yoo rejects the proposed delegation of U.S. military to non-U.S. officers. He argues that international law and treaties should not change the traditional balance of power between the President and the Congress.

Yoo will also ask the question, "Will the U.N. replace the U.S. as the foremost international moderator?" In his discussion he will examine the historical basis for a relinquishment of U.S. sovereignty and will comment on the dangers and benefits of further delegation.

Yoo has written extensively on the widespread use of the U.S. military from the beginning of the 20th century through Kosovo. His scholarly work also covers public lawmaking, the separation of powers, foreign relations, and international law and trade. He served as a law clerk to Supreme Court Justice Clarence Thomas, and as General Counsel of the U.S. Senate Judiciary Committee. He is the recipient of several prestigious fellowships and has been invited to teach at the Free University of Amsterdam and the George Washington Law School.

Yoo's lecture is the first in the Salvatori Center's spring speaker series.