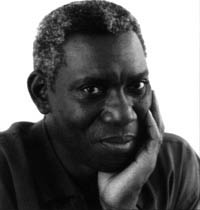 Poet Reads from His Work
YUSEF KOMUNYAKAA
MONDAY, FEBRUARY 28, 2000
A sort of unearthing has to take place; sometimes one has to remove layers of facades and superficialities. The Writer has to get down to the guts of the thing and rediscover the basic timbre of his or her existence.

-Yusef Komunyakaa

Yusef Komunyakaa is a Pulitzer Prize-winning poet who has been lauded for infusing his verse with childhood and wartime experiences and images of musical healing. Born in Bogalusa, Louisiana, in 1947, Komunyakaa grew up among southern attitudes and New Orleans-style jazz and blues. Upon graduation from high school, he joined the Army and served in Vietnam. He was awarded the Bronze Star for his work as a correspondent and then editor of the military newspaper The Southern Cross.

After leaving the army, Komunyakaa earned a B.A. from the University of Colorado, where he discovered his talent for creative writing; an M.A. from Colorado State University; and an M.F.A. from UC Irvine. He is the author of eight volumes of poetry and the coeditor of two anthologies. He is presently a professor of creative writing at Princeton University. Komunyakaa's poetry includes Toys in the Field (1987), a verse chronicle of his time in Vietnam; Copacetic (1984), which explores the relationship between racism and the healing power of jazz; and I Apologize for the Eyes in My Head (1986), where he rejects stereotypical labels and embraces mythic images. In addition to the Pulitzer Prize, Komunyakaa has received two Creative Writing Fellowships from the National Endowment for the Arts and the San Francisco Poetry Center Award.

Yusef Komunyakaa comes to the Athenaeum to read from his work as part of our great contemporary poets series.