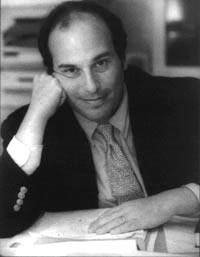 Rhetoric and Reality in Science
ROBERT FAGGEN
MONDAY, MARCH 27, 2000
A graduate of Princeton University, Robert Faggen earned his Ph.D. in English and American literature from Harvard in 1988. He has been an associate professor at CMC since 1994, and currently serves as the chair of the literature department. A prolific critic and editor, Faggen is a contributing editor of The Paris Review, has published articles in the Los Angeles Times Book Review and Partisan Review, and has composed critically acclaimed editions of works by Robert Frost, Czeslaw Milosz, and E. A. Robinson. He is currently working on a six-volume edition of The Complete Writings of Robert Frost for Harvard University Press.

One of Faggen's primary scholarly interests has been the relationship between literature and science, particularly the role that rhetoric and metaphor has played in scientific thought. He explored this question in one of his books, Robert Frost and the Challenge of Darwin (1997), published by the University of Michigan Press.

The fundamental question has roots in Platonic and Aristotelian philosophy: does art merely imitate reality, or is it a dynamic force that helps to define and shape our reality? The answer to this question will help to determine whether art and rhetoric have a significant influence on the way that science is perceived and the way in which it expresses itself. Faggen has explored this question further in his studies of Czeslaw Milosz, whose work addresses the question of the relation of science to the religious imagination.

Robert Faggen joins us to discuss the relationship of rhetoric and reality in modern science, a question that has provoked strong debates in recent years among the players in the "two cultures" of science and the humanities. This lecture is part of the Faculty Ideas in Progress series.