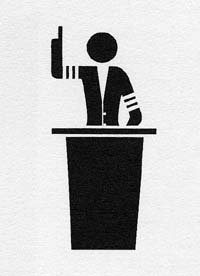 This House Supports Negative Political Advertising
MARK BLITZ
RYAN NAYAR '01
RHONDA CARTER '02
BEN HOYT
BAHRAM SEYEDIN-NOOR
DAN PAWSON '03, moderator
MONDAY, OCTOBER 2, 2000
Contemporary political practitioners use issue, image, and negative advertisements to influence voters. An increasing proportion of campaign advertising involves negative or "attack" commercials- targeted information that is negative in either tone or substance. This form of political advertising is controversial and the subject of spirited public discourse. Does it produce a more informed or cynical electorate?

The Claremont Colleges Debate Union is pleased to sponsor critical examination of this issue in a faculty-alumni-student parliamentary debate on the topic This House Supports Negative Political Advertising.

Based loosely on the historic deliberations of the British House of Commons, parliamentary debate is lively, witty, and audience-oriented. In addition to insightful argumentation, humor, passion, and persuasiveness are important elements in parliamentary debating. The debates are usually engaging and entertaining, with cheers, jeers, and clever heckles from the audience as a welcome part of the form.

Mark Blitz is the Fletcher Jones Professor of Political Philosophy and current chair of the government department. Blitz earned his A.B. and Ph.D. from Harvard University. Former associate director for the U.S. Information Agency, Professor Blitz joined CMC's faculty in 1996.

Ryan Nayar is the top senior debater at Claremont McKenna College. He and his partner are ranked in the top ten in the United States. Ryan will represent the Debate Union at the 2001 World Universities Championship, Glasgow University.

Rhonda Carter, a junior at Claremont McKenna College, is an award-winning competitive debater and featured performer in broadcast and public debates and roundtable discussions. She is scheduled to participate in an inaugural series of intercontinental debates via Internet streaming.

Bahrain Seyedin-Noor, Pomona '96 and Harvard Law School '99, is a former member of the Debate Union, currently practicing law in the Bay Area. He was an outstanding intercollegiate competitor, placing third in the national.

The Debate Union, under the direction of John Meany, is the largest and most successful intercollegiate debate program, ranking in the top ten in parliamentary debating in the nation for seven consecutive years, the top ten at the World Universities Championship, and winning national championships and top ten rankings in three additional competitive debate formats.