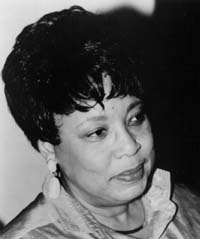 Celebrating the Birthday of Dr. Martin Luther King, Jr.
Dr. Martin Luther King, Jr.: His Work, Implications for Our Time
DOROTHY COTTON
WEDNESDAY, JANUARY 31, 2001
Legendary civil rights leader Dorothy Cotton was the educational director for the Southern Christian Leadership Conference (SCLC) from 1960 to 1972 and a close associate of Dr. Martin Luther King Jr.-accompanying King when he received the Nobel Prize for Peace in Norway. She helped orchestrate the SCLC's expanding protest activities including the Freedom Rides of 1961, voter registration drives and the Poor People's Campaign of 1968. In 1963 she became director of SCLC's Citizenship Education Program (CEP) which sought to increase literacy among black southerners in order to encourage them to register to vote and to participate in the political life of their communities. The program also trained local leaders in the ideology of nonviolent protest.

Currently Dorothy Cotton is a key partner with Civic Organizing Inc., through which she launched the National Citizenship School for the 21st century. Cotton serves as a valuable consultant to many organizations, schools and corporations on a variety of topics and projects addressing women's issues, race relations, nonviolence and multiculturalism. Honors she has received for her public work include a Doctor of Humane Letters from the University of New England an a Doctor of Humane Letters from Spelman College.

As a speaker, Cotton translates years of thought, learning, and experience into words and songs which bear messages of struggle and hope. With the gift of a storyteller, she breathes life into history, a history of which she was a vital part. She synthesizes the lessons from our history into a working vision for the future.

Dorothy Cotton is the Athenaeum's 14th Annual Dr. Martin Luther King Jr. speaker. Distinguished speakers participating in past celebrations have included Reverend Jesse Jackson, Myrlie Evers, James Farmer, Julian Bond, Reverend Wyatt Tee Walker, and Judge Constance Baker Motley.