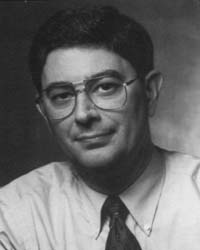 The Achievement of Pope John Paul II
GEORGE WEIGEL
WEDNESDAY, MARCH 21, 2001
Theologian George Weigel is a Senior Fellow at the Ethics and Public Policy Center in Washington, D.C., and a widely respected commentator on issues of religious and public life. He is the author or editor of some fourteen books, most recently the well-received Witness to Hope: The Biography of Pope John Paul II (1999) and regularly contributes to newspapers and journals throughout the United States. He appears frequently on radio and television programs, and writes a weekly syndicated column entitled "The Catholic Difference."

In his Athenaeum lecture, Weigel will identify ten enduring accomplishments of John Paul II that will shape both the Church and the world beyond the 21st century. He will pay special attention to the Pope's distinctive understanding of culture as the dynamic force in history, which challenges views widely held in the West since the French Revolution.

George Weigel received his education from St. Mary's Seminary College in Baltimore and the University of St. Michael's College in Toronto, and has taught at Seattle's St. Thomas Seminary School of Theology. Weigel was also a fellow at the Woodrow Wilson International Center for Scholars in Washington, D.C. Weigel also served as president of the Ethics and Public Policy Center, where he led a wide-ranging ecumenical and inter-religious program of research and publication on foreign and domestic policy issues.

George Weigel is sponsored by the Salvatori Center.