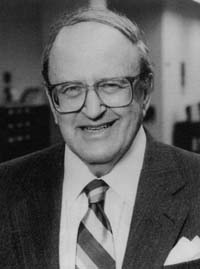 A New Birth of Freedom: Abraham Lincoln and the Coming of the Civil War
HARRY JAFFA
WEDNESDAY, APRIL 18, 2001
More than forty years ago, Harry V. Jaffa published Crisis of the House Divided: An Interpretation of the Issues in the Lincoln-Dougles Debates (1959). In the preface Jaffa promised a sequel to be entitled A New Birth of Freedom. While his readers waited, Jaffa became Salvatori Research Professor of Political Philosophy at Claremont Men's College, coached the Claremont Cycling Club, and published several more books, including The Conditions of Freedom (1975), How to Think About the American Revolution (1983), and Original Intent and the Framers of the Constitution: A Disputed Question (1993). Perhaps delay was inevitable, for as the late Edward C. Banfield put it, "Crisis of the House Divided is a helluva hard act to follow." Nevertheless, after four decades, Jaffa fulfilled his promise: A New Birth of Freedom: Abraham Lincoln and the Coming of the Civil War (2000) was published late last year.

Hadley Arkes, who called Crisis of the House Divided "the best book ever written on Lincoln," found its sequel "a sublime work, advancing and deepening the first." James L. Swanson, writing in the Chicago Tribune, proclaimed A New Birth of Freedom "a tour de force: an unabashed but scholarly celebration of Lincoln, liberty and equality." The Washington Times called the book "a stunning work of scholarship and erudition." And James M. McPherson, perhaps the greatest living scholar of the Civil War, concluded, "every student of Lincoln needs to read and ponder this book."

Professor Jaffa will deliver a lecture drawn from A New Birth of Freedom at the Athenaeum. Following the talk, Jaffa will be honored for a lifetime of scholarship with the Appleby Prize, named after Carlton R. Appleby, a supporter of the Henry Salvatori Center.

Harry Jaffa's appearance at the Marian Miner Cook Athenaeum is sponsored by the Henry Salvatori Center.