Athenaeum Location
Print Newsletter
September 10, 2001
Vol. 17, No. 01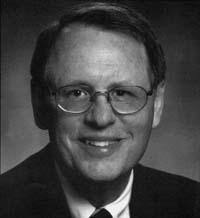 Take Nothing Good for Granted
JOHN ROTH
MONDAY, SEPTEMBER 10, 2001
John K. Roth, esteemed professor and distinguished scholar, will address members of the freshmen class at a special dinner welcoming them to Claremont McKenna College. All members of the Class of 2005 are automatically signed up for the dinner, and therefore must call the Athenaeum (ext. 18244) to cancel the reservation in order to eat in Collins Dining Hall.

Professor Roth is the Russell K. Pitzer Professor of Philosophy at CMC, where he has taught since 1966. He returned to CMC this fall after a sabbatical year that took him to England. There he held the Koerner Fellowship for Study of the Holocaust at the Oxford Centre for Hebrew and Jewish Studies. Earlier sabbatical opportunities have taken him to Switzerland, Austria, Japan, Israel, and Norway as well as to Harvard and Yale. This year, Roth will chair CMC's Department of Philosophy and Religious Studies. He will also continue to teach in the College's Philosophy, Politics and Economics (PPE) program, which he has done since its founding in the mid-1980s.

In addition to service on the United States Holocaust Memorial Council in Washington, D.C., and on the editorial board for Holocaust and Genocide Studies and other scholarly journals, Roth has written, coauthored, or edited more than thirty books, including The Questions of Philosophy (1998), Private Needs, Public Selves: Talk about Religion in America (1997), Ethics after the Holocaust: Perspectives, Critiques, and Responses (1999), and major contributions to The Holocaust Chronicle (2000). His most recent book, Holocaust Politics, will appear in October. Roth's awards include his being named the 1988 U.S. National Professor of the Year by the Council for Advancement and Support of Education (CASE) and the Carnegie Foundation for the Advancement of Teaching.

Professor Roth's experiences at CMC and as a Holocaust scholar will be the points of departure for his Athenaeum talk. Persons wishing to attend just the lecture may arrive at 6:45 p.m. for a live remote broadcast into Parents Library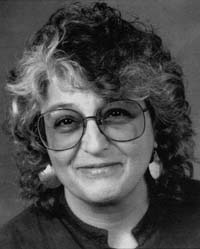 Pour Out Your Heart Like Water: Toward a Feminist Theology of the Holocaust
RACHEL ADLER
WEDNESDAY, SEPTEMBER 12, 2001
This year marks the thirtieth anniversary of the publication of Rachel Adler's article, "The Jew Who Wasn't There." Adler, then a graduate student at the University of Minnesota, spoke about the marginalization of women in traditional Judaism and their exclusion from many of the fundamental religious rituals, such as prayer and Torah study, and called upon Jewish scholars to take seriously the charge to "examine our problem anew, right now, with open minds and with empathy." The short but influential article, reprinted numerous times, propelled Adler to the forefront of the Jewish feminism movement. Since then Adler has continued to write about and reshape the rituals that structure Jewish life, particularly for women.

Adler, one of Judaism's leading theological voices, received her doctorate from the University of Southern California in religion and social ethics and now is associate professor at Hebrew Union College in Los Angeles. In 1998, Adler published Engendering Judaism: An Inclusive Theology and Ethics, which, through a careful study of texts and traditions on Jewish law, liturgy, and the ethics of sexuality and relationship, proposes new ways of "thinking about and practicing Judaism that men and women recreate and renew together as equals." Recently, Adler has turned her attention to the study of the Holocaust and to examining whether a Holocaust theology needs to be gendered at all, and, if so, what resources in the tradition can ground its form and discourse.

Professor Adler comes to the Athenaeum as the first speaker in the fall 2001 series "Judaism: Learning from the Past, Learning for the Future." Other speakers include Samuel Freedman (Columbia University), author of Jew vs. Jew: The Struggle for the Soul of American Jewry (2000) (October 30) and Adam Rubin (Hebrew Union College), expert on Zionism, its founding, and the emergence of post-Zionist thought (November 6).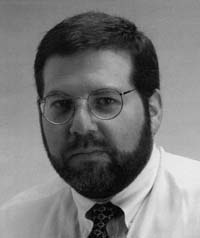 Are the Media Giants Taking Over?
BRIAN LOWRY
THURSDAY, SEPTEMBER 13, 2001
From the heart of the entertainment beast, Brian Lowry, television columnist for the Los Angeles Times, will give the first in a series of talks sponsored by the Family of Benjamin Z. Gould Center for Humanistic Studies. For the series, "Art and Democracy," special program director Martha Bayles has engaged several participants who will explore a number of questions, including some that are central to contemporary culture: Is artistic excellence achievable within a democratic society? What have been the effects, positive and negative, of electronic media and cultural diversity on the arts, high and low? Is commercialized popular culture the mirror image of totalitarian "people's culture" or a viable alternative to it? Lowry will provide a sharp critical look at the potential cultural impact of media consolidation.

Before coming to the Times, where he covers the television industry and writes a weekly column analyzing industry trends, Brian Lowry served as West Coast television editor for the entertainment trade newspaper Daily Variety, where he covered the network television beat, reviewed movies, and wrote the award-winning column, "Changing Channels." His first book, The Truth is Out There: The Official Guide to the X-Files (1995), became a New York Times bestseller, and was followed by a second companion guide, Trust No One: The Official Guide to the X-Files: Third Season (1996).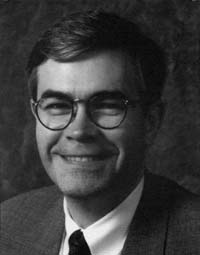 Faculty-Student Debate
Resolved: This House Would Pay Reparations for Slavery
CHARLES KESLER
ANDREA FITANIDES '01
BRENDAN BEHAN '02
BENJAMIN HOYT
MONDAY, SEPTEMBER 17, 2001
Freed slaves were once promised "forty acres and a mule"-compensation for a legacy of unjust enrichment by states, private businesses, and individual slaveholders. For nearly 150 years, the legal merits of this and other restitution for slavery were considered but no definite remedy ever emerged. Recent reparations to survivors of the Holocaust and for the internment of Japanese Americans during World War II has energized a slavery reparations movement, including a call by the California legislative assembly for federal action on the issue.

The controversies related to the legal principles, amount of compensation, and the identification of responsible parties and recipients are vexing. These controversies form the foundation of a faculty-student debate on the topic, "This House would pay reparations for slavery."

The featured participant in the event is Charles R. Kesler, professor of government and director of the Henry Salvatori Center at Claremont McKenna College. He received his A.B. (in Social Studies, 1978) and his A.M. and Ph.D. (in Government, 1985) from Harvard University. His new edition of The Federalist Papers (1999) has just been published by Penguin-Putnam Books. He is co-editor, with William F. Buckley, Jr., of Keeping the Tablets: Modern American Conservative Thought (1988 Harper Row).

Current and former members of the Debate Union will participate in the debate. Andrea Fitanides, CMC, 'O1, recently served as student summer faculty at debate workshops in Estonia, Slovenia, and Russia. She is the student director of an educational outreach program supporting debate activities in schools in economically marginalized communities.

Brendan Behan, CMC '02, is a Chicano Studies major, with a focus on gender and feminist studies. He won the 2000 National Round Robin Debate Championship, an event featuring the top ten debate teams in the United States. In addition, he participated in he first college Spanish-language debates in the U.S.

Benjamin Hoyt, POM, '00, is a software developer in Pasadena. Among his many team and individual honors, he placed in the top ten at the national parliamentary debate championship.

The annual faculty-student debate will feature a modification of parliamentary debate, a form emphasizing serious extemporaneous argument and a witty, oratorical style. Audience participation, including heckling, is encouraged. Please join us for what promises to be a challenging and entertaining debate.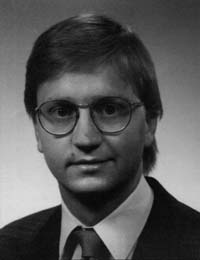 Without Mercy: The Moroccan Origins of Nationalist Strategy in the Spanish Civil War
GEOFFREY JENSEN
TUESDAY, SEPTEMBER I8, 2001
The Spanish Civil War was a very brutal affair, and many soldiers and civilians alike had lost their lives by the time Generalismo Francisco Franco's troops emerged triumphant in 1939. In their contributions to Franco's victory, military forces from Nazi Germany and Fascist Italy launched air raids on crowded cities and used Stuka dive- bombers for close air support in ways that foreshadowed the horrors of World War II.

In his Athenaeum address, Geoffrey Jensen argues that the deadly new methods of the foreign forces in Spain should not overshadow the extreme brutality exhibited by Spanish armies themselves in the war. Jensen makes the case that Franco, in particular, waged a ferocious war against enemy soldiers and civilians, often refusing to exploit tactical gains on the battlefield until he had thoroughly "cleansed" occupied areas of all possible political and military resistance. Many critics have charged that Franco's murderous policies behind the front lines not only further increased the number of civilian dead, but also needlessly delayed his final victory.

Jensen proposes that the earlier experiences of Franco and other military officers in the savage wars of Morocco greatly influenced the ways in which they waged the Spanish Civil War. The fighting in Morocco-comparable in some ways to U.S. intervention in Vietnam-colored subsequent Spanish military thinking as well as notions of national identity, culture, religion, and race. These ideas-military and nonmilitary alike-combined with popular cultural constructions of the Moroccan "Other" to help shape the character of the Spanish Civil War.

Geoffrey Jensen (Ph.D. Yale University, 1995) is co-director of the Center for the Study of War and Society and associate professor of history at the University of Southern Mississippi. A former visiting senior lecturer at the Royal Military Academy Sandhurst in Great Britain, he is the author of Irrational Triumph: Cultural Despair, Military Nationalism, and the Ideological Origins of Franco's Spain (forthcoming in November 2001) and co-editor, with Andrew Wiest, of War in the Age of Technology: Myriad Faces of Modern Armed Conflict (2001).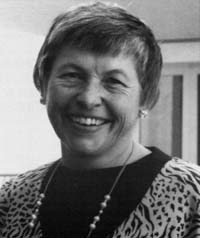 Thailand, Timbuktu, and Tuskegee: Should Research Ethics Stop at the Border?
MARGARET MATHIES
WEDNESDAY, SEPTEMBER 19, 2001
Nazi atrocities during the Second World War led to the formulation of the Nuremberg Code, which articulated guidelines for experimentation involving human subjects. This document, along with the World Medical Association's Declaration of Helsinki in 1964, established the international standard for safeguarding the well-being of experimental subjects.

In recent years, several investigations focusing on the transmission and treatment of HIV/AIDS have been conducted in developing countries by American universities and pharmaceutical houses. These often employ research protocols that would be prohibited in this country by U.S. ethical standards, and raise new bioethical challenges as the pharmaceutical industry increasingly turns toward the developing world for subjects on which to test new drugs. Scientists, ethicists, and public health workers are grappling to find appropriate ethical guidelines for this new era.

Professor Meg Mathies has taught biology in the Joint Science Department of Claremont McKenna, Pitzer, and Scripps, Colleges since 1965. She does research on the cellular interactions in the immune response and is a co-author of several papers in immunology. In addition to teaching classes in Introductory Biology, Genetics, and Immunology, she has for many years co-taught a course in Bioethics with Philosophy Professor Steve Smith. This lecture is part of an ongoing series of lectures by CMC faculty titled Faculty Ideas in Progress.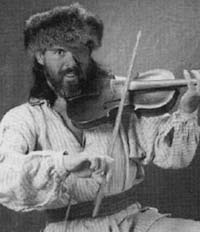 Pierre Cruzatte: A Musical Journey on the Lewis and Clark Trail
DANIEL SLOSBERG
THURSDAY, SEPTEMBER 20, 2001
Formerly a musician with the nationally-known Aman Folk Ensemble, Daniel Slosberg has been playing the fiddle since the age of five. In 1997, Ken Burns' Lewis and Clark documentary aired on PBS, and Slosberg's life changed forever. Upon learning that Lewis and Clark had a fiddle player, Slosberg embarked upon his own "voyage of discovery," learning everything he could about Pierre Cruzatte-the one-eyed, half-French, half-Omaha Indian Missouri River boatman and fiddler who helped lead the expedition.

Slosberg was particularly struck with the importance of music, song, and dance, both as entertainment for the explorers and as a diplomatic tool with the many Indian nations the expedition met along the trail. Playing fiddle" jaw harp, bones, spoons, and other period instruments, with humorous and moving stories about the journey, Slosberg brings this historic voyage to life.

Daniel Slosberg lives in Los Angeles with his wife, Deborah, and their four children. He also plays with the Turtle Creek contra dance band, with whom he has performed since 1989.

The Athenaeum will be hosting a series of programs devoted to Folk Music of America, of which this evening's performance is the first.
BOOK RECEPTION AND CELEBRATION
THURSDAY, SEPTEMBER 20, 2001 4:00 p.m.
The history department, the office of the Dean of Faculty, and the Athenaeum cordially invite you to a reception recognizing the recent publication of the following books by three CMC historians:

Johnathan Petropoulos
Faustian Bargain: The Art World of Nazi Germany
(Oxford University Press, 2000)

Gaines Post, Jr.
Memoirs of a Cold War Son
(University of Iowa Press, 2000)

David Yoo
Growing Up Nisei: Race, Generation and Culture Among Japanese Americans of California
(University of Illinois Press, 2000)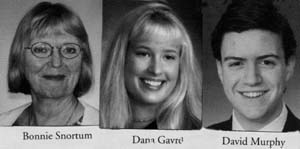 Welcome from the Director
BONNIE SNORTUM
FALL SEMESTER 2001
There are many good reasons to visit the Marian Miner Cook Athenaeum this fall-sometimes referred to as the "jewel" of the Claremont Colleges. Here you can meet friends and colleagues for afternoon tea. There are lectures, debates, concerts, poetry readings, etc., every Monday through Thursday evening. A gourmet meal prepared by Chef David Skinner and his staff precedes each program, and provides you with the opportunity to meet a distinguished visitor, have dinner with your professor, or use this as an opportunity to make new friends.

A copy of the Fortnightly newsletter will be placed in your mailboxes every two weeks with articles describing these special programs. Reserving space for a meal is easy. You may sign up at www.claremontmckenna.edu/mmca, return the form printed in the Fortnightly, or fax your request to ext. 18579. If you choose not to attend the dinner, you are welcome to show up at 6:45 p.m. for the program, no reservation needed.

Afternoon tea begins Monday, September 10th and is open every weekday from 3:00 to 4:30 p.m. Pastry chef Sid Vichaita has already begun baking his famous cookies, cakes, and pastries for this anticipated occasion.

It is also a pleasure to introduce Dana Gavre and David Murphy, chosen by the Athenaeum Advisory Committee to serve as Student Fellows for the academic year 20012002. The Fellows play a major role in shaping the direction of the programming at the Athenaeum, having the opportunity to explore their own creative ideas as well as serving as liaison to CMC students.

Dana, a sophomore from Waukesha, Wisconsin, is a literature and legal studies major. She hopes to give more prominence to fine arts in the Athenaeum calendar. David, from Chevy Chase, Maryland, is also a sophomore and contemplates a major in government, music, or religious studies. With this range of interests-recently expanded after a summer job working with a space tourism company-David looks forward to meeting new students anc seeing old friends.

The Athenaeum's mission is to enhance the intellectual life and add to the richness of your experience at CMC. Come enjoy the fun.
NEXT FORTNIGHTLY
Monday, September 24, 2001
Harlan Ellison, essayist, screen writer; and author of
Death Bird Stories
(1983) and
I Have No Mouth & I Must Scream
(1967), "The Flight of the Curmudgeon: A Difficult Evening with Harlan Ellison"
Tuesday, September 25, 2001
Vincent Bugliosi, former Los Angeles deputy district attorney, author of
Helter Skelter: The True Story of the Manson Murders
(1995),
Outrage: The Five Reasons Why O.J. Simpson Got Away with Murder
(1996), and
The Betrayal of America: How the Supreme Court Undermined the Constitution and Chose Our President
(2001), "The Betrayal of America"
Thursday, September 27, 2001
Tyler Cowen, professor of economics, George Mason University, and author of
In Praise of Commercial Culture
(1998), "Why Commercial Culture is Good for the Arts"
Monday, October 1, 2001
Dave Hickey, contributing editor,
Art Issues
, and author of
Air Guitar: Essays on Art and Democrary
(1997), "At Home in the Neon: Why Las Vegas Welcomes Serious Art"
Tuesday, October 2, 2001
Robert Hare, professor of psychology, University of British Columbia, "Psychopaths and Their Nature: Some Clues from Cognitive Neuroscience"
Wednesday, October 3, 2001
Robert Pinsky, professor of English and creative writing, Boston University, and former Poet Laureate of the United States (1997-2000), "Favorite Poem Project"
Thursday, October 4, 2001
Maya Ajmera, founder, Global Fund for Children, "Non-Profit and For Profit Collaboration: The New Venture Philanthropy"
ATHENAEUM POLICY
The Athenaeum serves as a gathering place where ideas, inquiry, and fellowship bring students, faculty, staff, other scholars, and nationally prominent speakers together. Attendance at any event may be limited to persons associated with CMC, to people who signed up for the dinner, or to the maximum number of people allowed by fire regulations. On some occasions the speaker may address the group in another forum or the College may set up a video feed to handle an overflow crowd. House rules and common courtesy prohibit disruptive actions inside the building during an Athenaeum-sponsored program. Time allowing, there will be a period set aside for questions. Students will have priority during this portion of the program. The Athenaeum has a dress code for dinner. Business attire is preferred-no shorts, jeans, or t-shitrs.