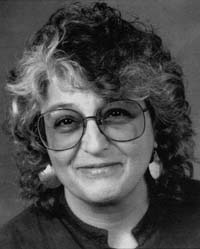 Pour Out Your Heart Like Water: Toward a Feminist Theology of the Holocaust
RACHEL ADLER
WEDNESDAY, SEPTEMBER 12, 2001
This year marks the thirtieth anniversary of the publication of Rachel Adler's article, "The Jew Who Wasn't There." Adler, then a graduate student at the University of Minnesota, spoke about the marginalization of women in traditional Judaism and their exclusion from many of the fundamental religious rituals, such as prayer and Torah study, and called upon Jewish scholars to take seriously the charge to "examine our problem anew, right now, with open minds and with empathy." The short but influential article, reprinted numerous times, propelled Adler to the forefront of the Jewish feminism movement. Since then Adler has continued to write about and reshape the rituals that structure Jewish life, particularly for women.

Adler, one of Judaism's leading theological voices, received her doctorate from the University of Southern California in religion and social ethics and now is associate professor at Hebrew Union College in Los Angeles. In 1998, Adler published Engendering Judaism: An Inclusive Theology and Ethics, which, through a careful study of texts and traditions on Jewish law, liturgy, and the ethics of sexuality and relationship, proposes new ways of "thinking about and practicing Judaism that men and women recreate and renew together as equals." Recently, Adler has turned her attention to the study of the Holocaust and to examining whether a Holocaust theology needs to be gendered at all, and, if so, what resources in the tradition can ground its form and discourse.

Professor Adler comes to the Athenaeum as the first speaker in the fall 2001 series "Judaism: Learning from the Past, Learning for the Future." Other speakers include Samuel Freedman (Columbia University), author of Jew vs. Jew: The Struggle for the Soul of American Jewry (2000) (October 30) and Adam Rubin (Hebrew Union College), expert on Zionism, its founding, and the emergence of post-Zionist thought (November 6).