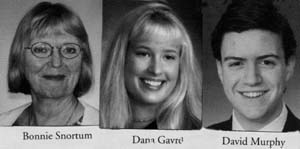 Welcome from the Director
BONNIE SNORTUM
FALL SEMESTER 2001
There are many good reasons to visit the Marian Miner Cook Athenaeum this fall-sometimes referred to as the "jewel" of the Claremont Colleges. Here you can meet friends and colleagues for afternoon tea. There are lectures, debates, concerts, poetry readings, etc., every Monday through Thursday evening. A gourmet meal prepared by Chef David Skinner and his staff precedes each program, and provides you with the opportunity to meet a distinguished visitor, have dinner with your professor, or use this as an opportunity to make new friends.

A copy of the Fortnightly newsletter will be placed in your mailboxes every two weeks with articles describing these special programs. Reserving space for a meal is easy. You may sign up at www.claremontmckenna.edu/mmca, return the form printed in the Fortnightly, or fax your request to ext. 18579. If you choose not to attend the dinner, you are welcome to show up at 6:45 p.m. for the program, no reservation needed.

Afternoon tea begins Monday, September 10th and is open every weekday from 3:00 to 4:30 p.m. Pastry chef Sid Vichaita has already begun baking his famous cookies, cakes, and pastries for this anticipated occasion.

It is also a pleasure to introduce Dana Gavre and David Murphy, chosen by the Athenaeum Advisory Committee to serve as Student Fellows for the academic year 20012002. The Fellows play a major role in shaping the direction of the programming at the Athenaeum, having the opportunity to explore their own creative ideas as well as serving as liaison to CMC students.

Dana, a sophomore from Waukesha, Wisconsin, is a literature and legal studies major. She hopes to give more prominence to fine arts in the Athenaeum calendar. David, from Chevy Chase, Maryland, is also a sophomore and contemplates a major in government, music, or religious studies. With this range of interests-recently expanded after a summer job working with a space tourism company-David looks forward to meeting new students anc seeing old friends.

The Athenaeum's mission is to enhance the intellectual life and add to the richness of your experience at CMC. Come enjoy the fun.