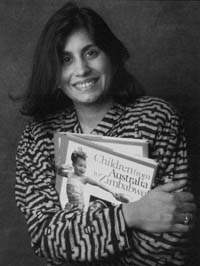 Social Entrepreneurship and Venture Philanthropy: The Evolution of the Global Fund for Children
MAYA AJMERA
THURSDAY, OCTOBER 4, 2001
While today's market-driven economy usually focuses on the accumulation of financial riches, Maya Ajmera is more concerned with another kind of wealth: social wealth. Understanding that the resources of social wealth are the world's children, she founded The Global Fund for Children (GFC) in 1994. In her Athenaeum lecture, Ajmera, the fund's executive director, will provide a glimpse of her journey to begin, build, and sustain GFC. She will also provide insights on nonprofit and for-profit collaborations and venture philanthropy intertwined with advancing the human rights of children and youth around the world.

GFC is a global grant-making organization that invests in community-based organizations serving vulnerable children's groups such as child laborers, street children, AIDS orphans, females, and other disadvantaged groups around the world. Ajmera is also the founder of GFC's children's book publishing venture, Shakti for Children. Shakti, named for a Hindu goddess renowned for empowering communities and protecting children, has developed many award-winning titles, including Children from Australia to Zimbabwe: A Photographic Journey Around the World (1997), To Be A Kid (1999), and Extraordinary Girls (1999).

Ajmera received her AB in biology from Bryn Mawr College in 1990 and an MPP from the Sanford Institute of Public Policy at Duke University in 1994. She also studied and traveled in Southeast Asia as a Rotary Scholar. Her previous professional experiences include serving as the Special Assistant to the President of the Population Institute and a consultant for Family Health International.

Currently, Ajmera serves on the National Executive Board of the Frank Porter Graham Child Development Center at the University of North Carolina at Chapel Hill and Washington Area Women's Foundation and the Advisory Boards of Youth Philanthropy Worldwide and the Emerging Markets Foundation.

Maya Ajmera's visit to CMC is cosponsored by the Kravis Leadership Institute and the Berger Institute for Work, Family, and Children.