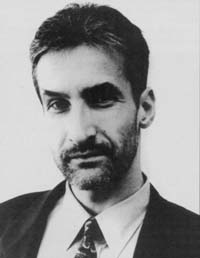 The Struggle for American Jewry
SAMUEL FREEDMAN
TUESDAY, OCTOBER 30, 2001
Samuel Freedman is an award-winning writer and professor. A former reporter for the New York Times, he is the author of three acclaimed books: Small Victories: The Real World of a Teacher, Her Students and Their High School (1990); Upon This Rock: The Miracles of a Black Church (1993); and The Inheritance: How Three Families and America Moved from Roosevelt to Reagan and Beyond (1996). His work has received widespread recognition including as a finalist for the Pulitzer Prize and National Book Award and as recipient of the Helen Bernstein Award for Excellence in Journalism.

Freedman recently spent several years visiting Jewish communities throughout the United States and Israel. His observations and reflections serve as the basis of his most recent book, Jew vs. Jew: The Struggle for the Soul of American Jewry (2000). The work offers a gripping portrait of American Jewry as it confronts new challenges to its identity. He locates the fissures and tension points in contemporary Judaism, over issues such as conversion standards, the role of women, and the peace process in Israel, and how these forces are shaping its future.

Freedman teaches at the Columbia University Graduate School of Journalism and was named the nation's outstanding journalism educator in 1997 by the Society of Professional Journalists. He is a frequent contributor to newspapers and magazines. Professor Freedman comes to the Athenaeum as the second speaker in the series, "Judaism: Learning from the Past, Learning for the Future."