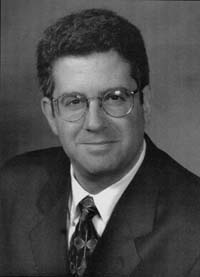 From Odessa to Tel Aviv: Hebrew Culture and the Re-invention of the Jewish Past
ADAM RUBIN
TUESDAY, NOVEMBER 6, 2001
Adam Rubin is an assistant professor of Jewish history at Hebrew Union College in Los Angeles where he specializes in the history of Jewish cult and politics in Eastern Europe and pre-State Palestine during the nineteenth and twentieth centuries. He received his doctorate from UCLA and has spent several years living and studying in Israel.

Professor Rubin's talk will trace the development of Hebrew culture from its origins in fin-de-siecle Odessa among a small circle of writers and intellectuals to its institutional consolidation in pre-State Palestine. At the heart of this culture was an attempt to radically reshape the classical texts of the Jewish tradition into a secular, national literary canon. How did this process unfold? What was the relationship between Zionist advocates of modern Hebrew culture and Jewish life in the Diaspora?

Rubin's forthcoming book, The Politics of Tradition: Nationalism, Nostalgia, and the Re-invention of the Jewish Past examines the creation of Hebrew national culture in Europe and Palestine during the inter-war period. Professor Rubin comes to the Athenaeum as the third speaker in the series, "Judaism: Learning from the Past, Learning for the Future.