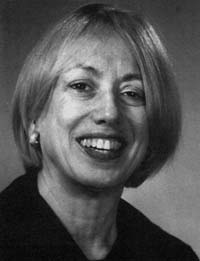 Are Mothers as Important as Warriors?
ANN CRITTENDEN
MONDAY, FEBRUARY 18, 2002
Theodore Roosevelt once remarked that "the good mother, the wise mother . . . is more important to the community than even the ablest man; her career is more worthy of honor and is more useful to the community than the career of any man, no matter how successful the career of any man . . . ." In her Athenaeum appearance, through a discussion of the ancient archetypes of the Mother and the Warrior, Ann Crittenden will discuss why the traditional female contribution to society is still not valued as highly as that of the traditional male.

In her recent book The Price of Motherhood: Why the Most Important Job in the World is Still the Least Valued (2001), award-winning journalist and author Crittenden exposes how contemporary American society undervalues mothers-both socially and economically. As she points out, motherhood is the single biggest risk factor of poverty in old age. After all, mothers lose out on income if they stay home or are faced with an inflexible job market that makes part-time work scarce or inadequately paid. As Time reported in a review of the book, she "turns out a fresh persuasive argument sure to inspire vigorous debate."

Crittenden is also the author of Sanctuary: A Story of American Conscience and the Law in Collision (1988), which was a 1988 New York Times Notable Book of the Year, and Killing the Sacred Cows: Bold Ideas for a New Economy (1992). In addition, from 1975 to 1983, she worked as a reporter for The New York Times, where her coverage of a broad range of economic issues earned her a Pulitzer Prize nomination. She previously reported for Fortune and Newsweek and her articles have been published in The Nation, Foreign Affairs, McCall's, and Working Woman. Crittenden has been a visiting lecturer at the Massachusetts Institute of Technology and Yale and an economics commentator for CBS News.

Ann Crittenden's appearance at the Athenaeum is part of the Berger Institute's series on Work, Family, and Children and the year-long celebration of the 25th anniversary of coeducation at CMC.