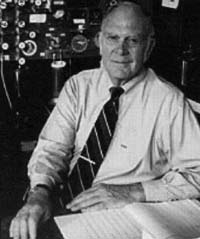 Global Pollution
F. SHERWOOD ROWLAND
TUESDAY, APRIL 9, 2002
In recent times, hardly a day goes by without hearing about pollution, global warming, or the hole in the ozone layer. However, such damage in the atmosphere due to our use of chemical emissions has only been known since the 1970s-and the seriousness of its consequences is becoming readily apparent today. Thus, research-like that done by Dr. F. Sherwood Rowland-is of extreme importance.

In 1995 Rowland shared the Nobel Prize in Chemistry with Mario Molina and Paul Crutzen "for their work on atmospheric chemistry, particularly concerning the formation and decomposition of ozone." Along with postdoctoral colleague Molina, Rowland, a specialist in atmospheric chemistry and radiochemistry, was the first person to warn that chlorofluorocarbons (CFCs) released into the atmosphere were depleting the earth's critical ozone layer. This finding, as the Los Angeles Times Magazine stated, "rocked the government, threatened a huge industry, and transformed global environmental policy."

His research in the 1970s eventually led to legislation in the United States, Canada, and Scandinavia regulating the manufacture and use of CFCs, and in 1987 to the Montreal Protocol of the United Nations Environment Program-the first international agreement for controlling and ameliorating the environmental damage to the global atmosphere. The terms of the Montreal Protocol were strengthened in 1992 to attain a complete phaseout of further CFC production by the year 1996. Consequent measurements in the atmosphere have proven that CFC emissions on a global scale have essentially stopped.

In addition to his work with CFCs, Rowland has been investigating the impact of methane gas on the environment. Over the last hundred years, the greenhouse warming contribution of methane has been second only to that of carbon dioxide.

In sum, he is the author of more than 380 scientific publications, including approximately 100 in the area of atmospheric chemistry. Besides the Nobel Prize, he has won many other prestigious awards, such as the Tyler World Prize in Ecology and Energy, the Albert Einstein Prize of the World, and the 1993 American Chemical Society Peter Debye Medal in Physical Chemistry. He also holds honorary degrees from seventeen institutions.

Dr. Rowland is currently the Donald Bren Research Professor of Chemistry at the University of California, Irvine. He came to the University in 1964 as the first chair of the department of Chemistry. Previously, he has held faculty positions at Princeton University and the University of Kansas. He earned his bachelor's degree from Ohio Wesleyan University and his master's and doctoral degrees from the University of Chicago.

Professor Rowland's lecture is part of the series Urban Air Pollution, funded by a grant from the Mellon Foundation.