Athenaeum Location
Print Newsletter
September 9, 2002
Vol. 18, No. 01
CALLING ALL FRESHMEN!
You are invited to a special dinner and lecture welcoming the Class of 2006 to Claremont McKenna College and the Marian Miner Cook Athenaeum.

This event, planned for the freshmen class, provides you with a unique opportunity to become acquainted with the Athenaeum and meet one of CMC's most distinguished professors.

FRESHMEN ARE AUTOMATICALLY SIGNED UP FOR THIS DINNER.

However, you may cancel your reservation and eat in Collins Dining Hall by calling the Athenaeum (ext. 18244).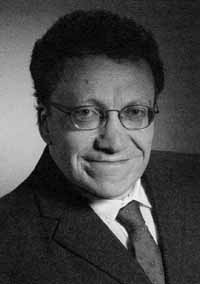 No Second Troy: Love and Politics in the Poetry of W. B. Yeats
JOHN FARRELL
MONDAY, SEPTEMBER 9, 2002
Three elements are necessary for the production of love poetry of a high order: 1) a sufficiently talented and enflamed poet; 2) a sufficiently diversionary object of love; and 3) a sufficiently significant framework of complications. In the case to be discussed by John Farrell in his lecture to the class of 2006, the poet is William Butler Yeats, an Anglo-Irishman whom T. S. Eliot described as not only "the greatest poet writing in English" in the twentieth century but "perhaps the greatest writing in any language"; the love object is Maud Gonne, a radical Irish beauty who inspired and resisted the poet for three decades; and the framework is Irish revolutionary politics, which Yeats interpreted in a mythological and historical context going back to the Trojan War. This favorable combination of elements produced a body of poems about love (and politics) unmatched in English since the Renaissance. John Farrell will read and comment upon a number of them, especially the twelve-line lyric "No Second Troy."

John Farrell, a literary critic, historical psychologist, and intellectual historian, is an associate professor of literature at Claremont McKenna College, where he has taught since 1990. Professor Farrell earned degrees from Brown (AB, 1979) and Harvard (PhD, 1988). He is the author of Freud's Paranoid Quest: Psychoanalysis and Modern Suspicion (NYUP, 1996) and is presently completing a broader study of paranoia and suspicion in modern culture.

Anyone wishing to attend the lecture should arrive at 6:45 p.m.
Reflections on September 11th
WILLIAM ASCHER, moderator
MARK BLITZ
P. EDWARD HALEY
DIANE HALPERN
GREGORY HESS
PAUL KAPUR
DIANA SELIG
ANDREW BREHM '03
TUESDAY, SEPTEMBER I0, 2002
At the approach of the first anniversary of the September 11th tragedy, and in order to provide the opportunity for people to come together at this historic moment, the Athenaeum will host a panel discussion reflecting on the events and their impact. Vice President and Dean of the Faculty William Ascher will moderate the faculty/student panel, which will be followed by time for discussion. Scheduled participants include: Mark Blitz, Fletcher Jones Professor of Political Philosophy and government department chair; P. Edward Haley, professor of government and W. M. Keck Foundation Chair of International Strategic Studies; Diane Halpern, professor of psychology and director of CMC's Berger Institute for Work, Family & Children; Gregory Hess, professor of economics and Russell S. Bock Chair of Public Economics and Taxation; Paul Kapur, assistant professor of government; and Diana Selig, assistant professor of history. The panel will also include a student representative, Andrew Brehm '03, a White House intern on 9/11.

Reservations are required for dinner. The panel discussion is open to the public without charge.

A public remembrance will be held on Zinda Field the evening of September 11th. Please check the CMC website for information (www.claremontmckenna.edu).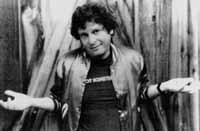 The Satirist as Public Intellectual
PAUL KRASSNER
MONDAY, SEPTEMBER I6, 2002
When Life magazine wrote an admiring profile of self-styled "investigative satirist" Paul Krassner, the FBI wrote a letter to the editor stating, "To classify Krassner as a social rebel is far too cute. He's a nut, a raving unconfined nut." Comedian George Carlin, in his introduction to Krassner's recently published collection of essays Murder at the Conspiracy Convention: And Other American Absurdities (2001), agrees: "The FBI was right. This man is dangerous-and funny and necessary."

Krassner has been a force in the counter-culture for more than forty years, as a stand-up comic, author and essayist, and editor of the widely influential underground magazine The Realist, which he published from 1960-2001. The New York Times has written of Krassner, "He is expert at ferreting out hypocrisy and absurdism from the more solemn crannies of American culture." And the Los Angeles Times observed that Krassner "has the uncanny abilitv to alter your perception permanently." When People magazine called him "the father of the underground press," Krassner demanded a paternity test.

Krassner was also cofounder, with Abbie Hoffman and Jerry Rubin, of the Yippies. His other books include Winner of the Slow Bicycle Race: The Satirical Writings of Paul Krassner (1996) and an autobiography, Confessions of a Raving, Unconfined Nut: Misadventures in the Counter-Culture (1993). His recorded comedy performances include We Have Ways of Making You Laugh (1996), Brain Damage Control (1997), and Sex, Drugs, and the Antichrist: Paul Krassner at M.I.T. (1999).

Paul Krassner is the first speaker in a series sponsored by the Gould Center for Humanistic Studies on "Public Intellectuals in American Life." Future speakers include Manhattan Project physicist and presidential advisor Herbert F. York, and literary critic Louis Menand.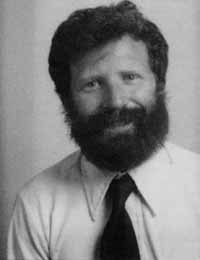 The Myths about the S&L Debacle and the Ongoing Financial Scandals
WILLIAM BLACK
TUESDAY, SEPTEMBER 17, 2002
While it may be true that those who fail to learn from the mistakes of the past are condemned to repeat them, William Black makes a case that those who learn the wrong lessons from the past may be condemned to greatly exceed past mistakes. As Mark Twain warned, it's not the things you don't know that cause disaster, it's the things you do know, "but ain't true."

William Black challenges conventional economic wisdom about the causes of the ongoing financial scandals, arguing that our "reforms" have dug ourselves into a very deep hole and we should stop digging.

Black is called a "hero of the public service" in Norma Riccucci's book Unsung Heroes (Georgetown University Press, 1995). Representative Henry Gonzalez (D-Texas) called him a hero "for courage and tremendous expertise and efficiency, and the integrity of conduct" in his uncompromising investigation into the corruption inherent to the savings and loan debacle of the 1980s, the country's worst financial scandal. By exposing abuse and fraud among S&L officials as well as members of Congress, his investigations ultimately lead to the resignation of Speaker of the House Jim Wright (D-Texas) in 1989 and a jail sentence and fine (1992) for Charles Keating, president of Lincoln Savings & Loan, Irvine, California. Black was also called before the U.S. Senate's Select Committee on Ethics to testify against the five senators (The Keating Five) who exerted pressure on him and others on behalf of Charles Keating.

Black holds a PhD in criminology, law, and society from the University of California at Irvine and a JD from the University of Michigan Law School. His research and writing deal with criminal justice policy issues such as white-collar crime, financial institutions, savings and loan industry reform, public corruption and public finance. Black is assistant professor, LBJ School of Public Affairs, University of Texas at Austin, and visiting scholar at the Markkula Center for Applied Ethics, Santa Clara University.
William Black's visit to Claremont is sponsored by the Kravis Leadership Institute and the Marian Miner Cook Athenaeum.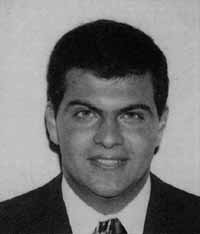 The Foreign Service Today
RAFIK MANSOUR
WEDNESDAY, SEPTEMBER 18, 2002
Secretary of State Colin Powell has stated that in the war on terrorism, "Diplomacy is our first line of defense." Currently, there are more than four thousand U.S. Foreign Service Officers serving on the front lines in more than 160 countries worldwide, and at the State Department in Washington, D.C. Just as U.S. foreign policy has changed over the years, the United States Foreign Service is an ever-evolving organization. Following Powell's appointment as Secretary of State, applicants taking the Foreign Service Exam have more than tripled. But what does a Foreign Service Officer actually do? Foreign Service Officer Rafik Mansour will join us at the Athenaeum to reflect on diplomatic life and the future of the U.S. Foreign Service.

Rafik Mansour was born in Cairo, Egypt and moved to the United States at the age of 15. He became a U.S. citizen in 1996, one year prior to graduating from the University of California, Irvine with a B.A. in French literature and a B.S. in Biology. Mansour attended medical school for one year before leaving in 1999 to become a Foreign Service Officer. In his first posting he served as a consular officer in Port au Prince, Haiti. Currently he is serving at the U.S. Embassy in Rome as second secretary for political affairs where he is the Embassy's Middle East specialist. In 2001, the State Department designated Mansour as a "Hometown Diplomat," to raise awareness in his community (Orange County) about U.S. foreign policy and career opportunities in the Foreign Service. He is also the equal opportunity employment counselor for the three U.S. diplomatic missions in Italy.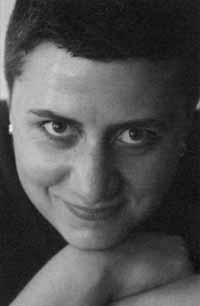 The Great Gay Political Debate
NORAH VINCENT
THURSDAY, SEPTEMBER 19, 2002
As a libertarian, "pro-life" lesbian, Norah Vincent is the antithesis of the feminist norm and challenges the conventions of the left and right alike. Her stand on issues such as abortion, the First Amendment, affirmative action, and public intellectualism has provoked rigorous debate, if not rage, within the gay population. According to Vincent, the publication of Bruce Bawer's book A Place at the Table (1993) clarified the division between those who favored the ACT UP approach to gay politics-represented most visibly by the gay pride parade that marches down Fifth Avenue in New York City as well as the main boulevards of most other major cities each year, and in-your-face displays that scream "We're here. We're queer. Get used to it."-and those who believe that gay people could benefit more from lobbying as a bona fide civil rights movement, working within the existing political system to win legislative and social battles through sound argument.

In a brief review of the history of gay politics, Vincent talks about the appearance in the early 1990s of another gay provocateur Camille Paglia, the first feminist of her generation to take on the feminist establishment's orthodoxy, and Andrew Sullivan, the former New Republic editor.

Norah Vincent makes the case for gay individualism by giving everyone a sense of where she stands as a pro-life anti-feminist and lesbian libertarian: How did she fit into this picture in the 1990s? When did she come on the scene and how? What arguments has she made most passionately since then?

Vincent holds a bachelor's degree in philosophy from Williams College. A weekly columnist for the Los Angeles Times op-ed page, Vincent also writes a quarterly politics and culture column for The Advocate, the national gay and lesbian news magazine. Her essays, columns, and reviews have also appeared in publications such as The New York Times, The New York Post, Lingua Franca, The Boston Globe, the Chicago Tribune, and The National Review.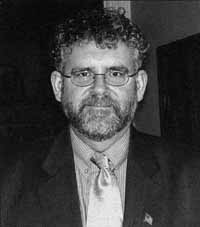 The American Foreign Policy Tradition and the Bush Administration
WALTER RUSSELL MEAD
MONDAY, SEPTEMBER 23, 2002
The Council on Foreign Relations is a nongovernmental, nonprofit, and nonpartisan organization, think tank, and publisher. It was founded in 1921 by businessmen, bankers, and lawyers determined to keep the United States engaged in the world. Its 3600 members (which also include leaders in government, media, academia and nonprofit organizations) are dedicated to the belief that the nation's peace and prosperity are firmly linked to that of the rest of the world.

Walter Russell Mead, Senior Fellow for U.S. Foreign Policy at the Council on Foreign Relations, is one of the country's leading students of American foreign policy. His most recent book Special Providence: American Foreign Policy and How It Changed the World (Alfred A. Knopf, 2001) was named as one of ten notable nonfiction books of 2001 by the Economist and nominated for the 2002 Arthur Ross Book Award, given to the best foreign policy book of the year.

According to Mead, the United States has had a more successful foreign policy than any of the other great powers that we have faced-and faced down. The paradox posed by Mead in this provocative book, and the focus of his lecture at the Athenaeum, is that despite this success, Americans and foreigners have routinely considered American foreign policy to be amateurish and blundering, a political backwater and an Intellectual wasteland. Mead is also researching ways in which the economic instruments that helped build an affluent middle class society in the United States-such as the development of affordable home ownership-can be used to build strong middle classes in developing countries today.

An honors graduate of Groton and Yale, Mead has traveled widely in Asia, Europe, Africa, and Latin America and often speaks at academic, business, and government-sponsored conferences in the Untied States and abroad, including the annual meeting of the World Economic Forum (Davos, Switzerland).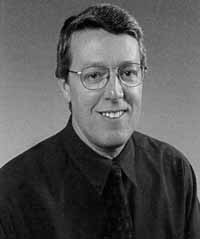 A Psychologist Looks at Forensic DNA Evidence
WILLIAM THOMPSON
TUESDAY, SEPTEMBER 24, 2002
DNA evidence is said to be the "gold standard" of forensic science. It is widely thought to provide objective and virtually infallible proof of identity. However, crime laboratory analysts sometimes rely heavily on subjective judgment to determine whether two DNA profiles "match" and do not always follow scientifically rigorous procedures for making interpretations. This raises the possibility that judgments about identity based on DNA evidence may be influenced by expectation effects, confirmation bias, backward reasoning, and hindsight bias. William Thompson examines the interpretation of DNA evidence from a psychological perspective, exploring how psychological processes may have influenced the interpretation of evidence in several actual criminal trials, and how such issues are handled in the legal system.

William C. Thompson is professor of criminology, law and society at the University of California, Irvine. He is a psychologist and lawyer who has published widely and has served as cocounsel in several high profile cases involving DNA evidence.

This year, Professor Thompson is the first speaker in the Athenaeum's ongoing series in Psychology and Law. Upcoming speakers in the series include Gail Goodman who will discuss the accuracy and appropriate use of child witnesses in civil and criminal trials (October 29), and Saul Kassin who will discuss the social psychology of police interrogation techniques (November 12).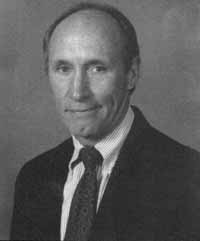 Episodes in a Career: A Diplomat's Perspective on Asia
DAVID LAMBERTSON
WEDNESDAY, SEPTEMBER 25, 2002
David Lambertson's 32-year Foreign Service experience focused primarily on East Asia. He describes three episodes in that career-one from Vietnam during the war, another relating to Korea (and California) in the early 80s, and a third involving Singapore. While none of them will be found in history books, they were important in shaping Lambenson's perspective on the region, and each sheds some light on the nature of American interaction with East Asia. In particular, they underscore the unique position, which the United States occupies in its relations with that region, and indeed the world, as the dominant partner in virtually all our dealings with other countries-a reality that obliges us to make extra efforts to understand what our East Asian friends are thinking.

David Lambertson was the United States Ambassador to Thailand from 1991 to 1995. His Foreign Service career also included assignments in Vietnam, Indonesia, France, Japan, England, Australia and Korea. In Washington, Lambertson was Deputy Director of the Office of Japanese Affairs, Director of the Office of Korean Affairs, and Deputy Assistant Secretary of State with responsibility for Southeast Asia. He was Diplomat-in-Residence at the University of Kansas (KU) in 1990-91, and following his retirement from the Foreign Service returned there in 1996 as its Director of International Development for three years. More recently he has been an adjunct professor at KU, and a part-time representative in North Korea of the Korean Peninsula Energy Development Organization (KEDO), which is building two nuclear power plants there under the terms of the 1994 agreement between Washington and Pyongyang. Lambertson is a native of Kansas and a graduate of the University of Redlands.

David Lambertson is currently the Freeman Foundation Visiting Professor of Asian Affairs at Claremont McKenna College. Lambertson's lecture is sponsored by the Keck Center for International and Strategic Studies.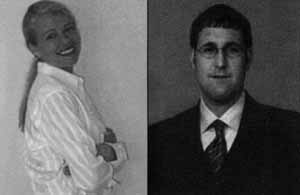 He Said-She Said
KATIE KOESTNER
BRETT SOKOLOW
THURSDAY, SEPTEMBER 26, 2002
How drunk is too drunk when it comes to sex? What are the legal definitions of sexual assault, consent and incapacity? Is there really a "point of no return"? Katie Koestner had to find answers to these and many more questions after a date rape during her freshman year of college in 1990. Outraged at the inadequate response from the College of William and Mary, she took her crime of silence and went public, landing on the cover of the June 3, 1991 Time magazine. Today Koestner is a Virginia state-trained peer educator and an outspoken sexual assault counselor who continues to receive national attention for speaking out against date-rape, the crime of silence that affects one out of every seven women on college campuses. In 1993 Koestner worked with HBO to make the Lifestories Docudrama, No Visible Bruises: The Katie Koestner Story. Some of her television appearances include Larry King Live, the Oprah Winfrey Show, NBC Nightly News, MTV and Good Morning America.

Brett A. Sokolow will cofacilitate this event as a higher education attorney specializing in campus security and sexual misconduct. Sokolow is President of the National Center for Higher Education Risk Management, based near Philadelphia, Pennsylvania. He has founded Men Acting for Change at the College of William and Mary; interned with Victim's Advocacy Legal Organization (VALOR); is editor of the Report on Campus Safety and Student Development, and author of seven books on campus security and sexual misconduct. Koestner and Sokolow, as copresenters, have appeared at more than 700 different colleges, high schools and military institutions in United States.

Please join us at the Athenaeum for a compelling, informative, and interactive evening with Katie Koestner and Brett Sokolow. To allow adequate time for these presentations, the program will begin at 6:30 p.m. This event is sponsored by the Dean of Students and the Athenaeum.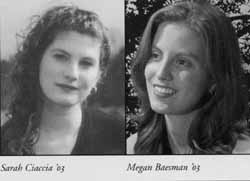 THE 2002-2003 ATHENAEUM FELLOWS
MEGAN BAESMAN '03
Megan believes that the Ath is a high-water-mark of student life at CMC and looks forward to serving as an Athenaeum Fellow during her senior year. Megan, originally from Seattle, has spent time interning in New York and Washington, D.C., and hopes to be able to bring some speakers to the Ath using the contacts she made there. When she's not at the Ath, you can usually find Megan whipping up a scrumptious vegetarian meal in her kitchen in the student apartments, or possibly slaving away on another PPE paper in the computer lab.
SARAH CIACCIA '03
Sarah is a dual major in government and literature, and will also complete the minor in Italian studies at Scripps College. In her free time she enjoys going to museums, people-watching, and eating sushi. This past summer Sarah interned at the U.S. Embassy in Rome. After graduation she hopes to enter the U.S. Foreign Service or pursue graduate study in Italian literature. Sarah hopes that the CMC community will enjoy this year's interesting and eclectic program.
Classical Music in Los Angeles
ERNEST FLEISCHMANN
TUESDAY, SEPTEMBER 24, 2002 4:00 P.M.
The Gould Center for Humanistic Studies proudly announces a new program for Academic Year 2002-03. "Afternoons at the Ath" will bring visiting scholars and public figures to campus to make short (25 minutes or so), informal presentations, followed by Q & A and conversation with students and faculty.

On Tuesday, September 24 at 4:00 p.m., Ernest Fleischmann, renowned impresario, artistic advisor, and principal executive of great orchestras and music festivals the world over, will discuss the state of classical music in southern California--from the recent "Opera Wars" involving a kiboshed Kirov production at the Dorothy Chandler; to the economics of the arts; to recording, broadcast, education, and other community outreach. Fleischmann, whose rich, Brahmin baritone is familiar to legions of classical radio listeners and other art music enthusiasts, has, over the better part of the past half-century, earned international recognition as one of the most active and influential figures in the realm of high culture.

From 1959 to 1967, Fleischmann managed the London Symphony Orchestra and directed European operations for CBS Masterworks. As manager of the Los Angeles Philharmonic from 1969 to 1998, he worked closely with music directors Zubin Mehta, Carlo Maria Giulini, Andre Previn, and Esa-Pekka Salonen in developing that orchestra into one of the world's elite ensembles. Also during those years, in championing such conductors as Salonen, Simon Rattle, and Kurt Sanderling, Fleischmann provided many American audiences their first experiences of the artistry of some of the brightest stars in the musical firmament.

Since 1998, Fleischmann has served as artistic director of the prestigious Ojai Festival. He remains the Los Angeles Philharmonic's principal artistic consultant, even as he serves as juror at many major musical competitions throughout the world, as panelist for the National Endowment for the Arts, as consultant to numerous musical organizations, and as a member of the Salzburg Seminar-Alberto Vilar Project on Critical Issues for the Classical Performing Arts.

Mr. Fleischmann will speak in the Security Pacific Dining Room of the Marian Miner Cook Athenaeum. All are welcome, students especially so.